Recipes By Course - Side Dishes
Risotto with Butternut Squash
Ingredients

2 tablespoons extra-virgin olive oil
2 tablespoons unsalted butter
2/3 cup Vidalia onion, chopped
1 cup plus 2 tablespoons Arborio rice
1 1/2 cups butternut squash, peeled, seeded, and cut into 1 inch cubes
3 cups chicken broth
2 teaspoons butter
2 tablespoons fresh basil, chopped
1/4 cup grated Pecorino Romano cheese, plus extra for sprinkling on top
Kosher salt and pepper, to taste
Directions

In skillet over medium heat, add oil and butter and sauté onion until tender, approximately 6-8 minutes.
Pour rice on top of onions and with rice paddle, coat grains with butter and oil mixture.
Cook and occasionally stir for about 4 minutes.
Transfer rice to rice cooker bowl. Add squash and broth and gently stir ingredients.
Close cover and set to Cook cycle. Once machine switches to Keep Warm, stir risotto. A small amount of liquid should remain, but rice should be tender, not soft or mushy. Turn unit off, keep covered and allow rice to steam for another 5 to 10 minutes.
When serving, add butter and stir in basil and cheese. Season with salt and pepper to taste and serve immediately, passing more cheese if desired.
Potato Seafood Salad
Ingredients

2 pounds russet potatoes, peeled and cut in 1 inch chunks
3 tablespoons cider vinegar
Kosher salt and pepper, to taste
6 ounces raw shrimp, peeled, deveined and halved lengthwise
8 ounces snow peas, washed, trimmed and strings removed
1/4 cup sour cream
3 tablespoons plain yogurt
6 tablespoons mayonnaise
1 tablespoon horseradish
1 teaspoon sugar
3 ounces lobster meat, cooked
6 ounces lump crabmeat, drained
1/2 cup red onion, peeled and chopped
4 tablespoons fresh tarragon (or 2 teaspoons dried)
Directions

Place potatoes to lower steaming bowl and steam until just tender, not soft, about 20 minutes. Transfer to large bowl and drizzle with 2 tablespoons vinegar. Lightly sprinkle with salt and pepper.
In lower steaming bowl, add shrimp.
In upper steaming bowl, add snow peas.
Steam until shrimp are pink and tails are curled and snow peas are bright green and crispy tender, about 4-5 minutes.
Remove shrimp and snow peas.
While potatoes continue to cook, make dressing by whisking together sour cream, yogurt, mayonnaise, horseradish, sugar remaining vinegar and salt & pepper.
Transfer steamed potatoes to large mixing bowl, add shrimp, lobster, crabmeat, red onion and gently mix ingredients.
Pour dressing over mixture and gently blend.
Season to taste, cover and chill for at least two hours.
Garnish with tarragon and serve.
A salad fit for a king and queen.
Ingredients

3 Italian eggplants
1 large zucchini quartered
6 fresh baby artichokes prepared*
1/2 yellow pepper, sliced thin
3 fresh cherry peppers, cut in half
4 cloves garlic, cut in half
1/4 cup marsala
1/4 cup olive oil
1/2 teaspoon salt
1/2 teaspoon red pepper flakes
2 tablespoons chopped thyme
4 or 5 green and black olives
Directions

Preheat Oster® Toaster Oven at max level.
Combine marsala, olive oil, salt, pepper flakes and thyme in large bowl. Add vegetables and marinate for 15 minutes.
Remove vegetables from marinade and spread out evenly on roasting pan. Place pan in Oster® Toaster Oven and roast vegetables for 15 or 20 minutes until vegetables are tender.
Remove vegetables from Oster® Toaster Oven and place in serving platter. Scatter olives around plate. Garnish with fresh thyme if desired.
*Most baby artichokes have no developed fuzz or fibrous leaves in the center and by trimming off the tough outer leaves you end up with a completely edible artichoke. Bend back the outer green leaves and snap them off at the base. Continue doing this until you reach a point where the leaves are half green (at the top) and half yellow. Using a stainless steel knife to minimize discoloration cut the top cone of the leaves at the point where the yellow color meets the green (green will be fibrous). Cut the stem level with the base and trim any remaining green from the base of the artichoke. Cut in half or quarter horizontally. If there are purple or pink leaves, cut them out (those leaves will be tough). If the interior is white the entire artichoke is edible. Place in acidulated water (water with a few drops of lemon juice).
Place artichoke upright in a casserole suitable for a microwave. Heat, covered, in microwave oven 12 to 15 minutes. Cook until bases are tender when pierced with a fork and lower leaves pull away easily.
Savory Bread Pudding with Asparagus and Dried Tomatoes
Ingredients

2 tablespoons olive oil
1/2 large Vidalia onion, sliced thinly
1/2 pound (about 2 cups) asparagus, trimmed, cut into 1-1/2 inch lengths
1/3 cup chopped fresh leeks
1 cup sliced mushrooms
3 large egg
1 cup whipping cream
1 cup milk
1 teaspoons salt
1/2 teaspoon ground black pepper
1/2 cups grated Gruyère cheese, 4 oz
1/2 cups goat cheese crumbled, 4 oz
1/2 cup grated fontina, 3 oz
1/2 cup dehydrated tomatoes
1/4 cup chopped fresh parsley
2 tablespoons fresh thyme leaves
4 cups day old bread, cut into 1-1/2 inch pieces (a hearty bread like oat or multigrain works very well)
Directions

Set the Oster Counter Forms Digital Convection Toaster Oven to Convection Bake function. Set temperature to 350°F. Grease an 8 inch square pan. Sauté onions in olive oil for 3 to 4 minutes. Add asparagus, leeks, and mushrooms, cook until onions just begin to brown. Set aside. Whisk eggs, cream, milk, salt and pepper in medium bowl. Mix cheeses, dried tomatoes and herbs in medium bowl. Place half of bread pieces in baking pan. Sprinkle with half of asparagus mixture, then half of cheese mixture. Pour half of egg mixture over cheese. Repeat with remaining bread, asparagus mixture, cheese mixture, and egg mixture. Let stand 20 minutes, pressing with spatula to submerge bread pieces. Bake the bread pudding until brown and puffed, about 30-40 minutes or until custard is set. Cool for 10 minutes.
Yellow Squash in Fennel Butter
Ingredients

6 yellow squash, trimmed and sliced 1/8" thick
1 tsp fennel seeds
2 tsp melted butter
Salt freshly ground pepper
2 tbsp chopped pistachio nuts
Directions

In an Oster® Food Steamer, steam the yellow squash until tender-crisp, about 2-3 minutes.
Heat a nonstick skillet over moderate heat.
Stir in the fennel seeds and fry until they darken a few shades.
Add half of he butter to the squash. Mix together and saute for 1-2 minutes.
Season with salt and pepper.
Serve hot, sprinkled with pistachios and drizzled with remaining butter or oil.
Cool Cucumber Salad
Ingredients

2 cups plain yogurt
28 tablespoons rice vinegar
1-2 teaspoon sugar
1-2 tablespoon fresh dill, chopped
Kosher salt and pepper
1/2 small red onion, peeled
2 English cucumbers, peeled and seeded
Directions

In a medium bowl, combine yogurt, vinegar, sugar, dill and salt and pepper.
Taste and adjust dressings flavors and seasonings as desired.
Place the slicing/shredding disk on slicing side and attach to food processor bowl.
Cut onion to fit into food chute and press onion down with food pusher.
Cut cucumber to fit into food chute and press down with food pusher.
Place cucumber and onion in a sieve placed over a bowl.
Let sit for 15 minutes to give off excess water.
Blot cucumber and onions with paper towel and toss with dressing.
Serve immediately.
Steamed Potatoes with Sour Cream and Caviar
Ingredients

2 pounds fingerling potatoes
8 ounces sour cream
2 ounces caviar, the type you prefer
Salt pepper
1/4 cup Olive oil
24 ounces beer (2 bottles)
Directions

Steam 2 pounds red-skinned potatoes in beer as directed by your Oster Steamer.
Using a small paring knife, scoop a small ball of flesh from the top of each potato.
In a medium bowl toss potatoes with salt pepper and oil.
Fill cut out space with sour cream and dot with tiny dollop of caviar.
Fingerlings are small potatoes. Sizes vary, but most are 1 to 2 inches in diameter and 2 to 3 inches long. There are many varieties such as, ruby crescents, Russian bananas, purple Peruvians and French fingerlings. Each is about the length of a man's index finger, but varieties vary in shape and color and texture.
Horseradish Potatoes
Ingredients

2-1/2 lbs baking potatoes, peeled and cubed
2/3 cup buttermilk
1/3 cup freshly grated horseradish
1 tsp jalapeño, minced
1 tbsp butter or corn oil
Salt and freshly-ground white pepper
Directions

Place the potatoes in a saucepan, cover with cold water, and bring to a boil. Reduce the heat and simmer until potatoes are soft, about 25 minutes. Drain in a colander and return to the saucepan. Add remaining ingredients and mash until smooth and fluffy. Serve hot.
Santa Fe Chile and Corn Cakes
Ingredients

4 green Anaheim chiles
3 cups corn kernels, scraped from the cob
3 green serrano chiles, seeded, chopped
1 tsp salt
1/2 tsp pepper
3 tbsp all-purpose flour
Oil/clarified butter
Directions

Roast the Anaheim chiles over an open flame until black. Soak in water, peel, seed, and dice them. Process the corn in an Oster® Food Processor until it resembles a pur'ee, about 2 minutes. In a bowl mix together the corn pur'ee, chopped chiles, salt and pepper. Slowly add the flour, small amounts at a time, while stirring. In a medium saucepan heat the clarified butter over high heat. Using a slotted spoon, gently drop spoonfuls of the batter into the hot butter. When the edges are brown, after about 2 minutes, turn the fritters over and cook another 2 minutes. Remove the fritters and allow them to drain on paper towels.
Basmati Spinach Pilaf
Ingredients

4 tbsp unsalted butter
3 bunches spinach, stems trimmed
2 tsp salt
1 large onion, diced
1 tbsp ground cumin
1 tsp ground cardamom
1 tsp ground coriander
1 tsp ground turmeric
2 cup basmatic rice, cooked
2 tomatoes, peeled, seeded and diced
1/4 cup golden raisins (optional)
Directions

Melt 2 tbsp butter in large sauté pan over med/high heat. Add spinach and salt and saut'e until leaves wilt, about 2-4 minutes. Remove spinach and set aside. Melt remaining butter and sauté onions until lightly browned. Reduce heat, add ground spices and stir briefly. Add cooked rice, tomatoes, spinach and optional raisins. Cook just enough to heat rice, stirring well to combine. Serve warm.
Greek Style Marinated Cucumber
Ingredients

2 cucumbers
1 medium onion
1/2 red bell pepper
1 cup plain yogurt
1/4 cup fresh dill leaves, stems removed
2-3 slices feta cheese
Directions

Peel or don't peel cucumbers, depending on your taste.
Slice cucumbers, onion and peppers in Oster® Food Processor using the slicing side of the slicing/shredding disk.
Place sliced vegetables in large bowl. Add yogurt and dill to Oster® Food Processor bowl and pulse 2 or 3 times.
Refrigerate for 1 hour.
Feta cheese may be crumbled on top of salad or slices may be placed on top with dill sprigs for garnish.
Yams with Maple Pecan Glaze
Ingredients

2 to 3 pounds yams, peeled and cut into 2-inch chunks
1/4 cup butter
1/2 cup brown sugar
1/2 cup maple syrup
1/2 cup pecans, toasted and then coarsely chopped
Kosher salt and pepper, to taste
Directions

Place yam chunks in lower tier and steam until bright in color and tender and easily pierced with fork, about 20-25 minutes.
While yams are cooking, combine butter, brown sugar and maple syrup in medium saucepan.
Heat until mixture starts to boil and then reduce heat to low.
Stir for another minute and remove from heat.
Transfer steamed yams to serving bowl or platter.
Thoroughly coat and mix yams with buttery syrup mixture and then top with toasted pecans.
Thai Cabbage Apple Slaw
Ingredients Slaw

2 gala apples, cored and cut into matchsticks
3 cups shredded green cabbage
2 tbsp sesame seeds, toasted
2 tbsp chopped peanuts

Thai Sesame Dressing

1/4 cup rice vinegar
2 tbsp vegetable oil
1 tbsp sugar
1 tsp soy sauce
1/2 tsp sesame oil
1/4 tsp salt
Directions

In a large bowl, combine apples and cabbage. Mix all dressing ingredients and toss with apple mixture (Chill for at least 11 hour to blend flavors, or up to 12 hours.) Garnish with sesame seeds and peanuts.
Steamed Artichokes with Parmesan Pesto Butter
Ingredients

4 large globe artichokes
juice of 1 lemon
1 teaspoon sea salt

Parmesan Pesto Butter

2 sticks unsalted butter
1/2 teaspoon lemon zest
1 tablespoon prepared pesto sauce
sea salt, to taste
ground pepper, to taste
1/2 cup grated Parmesan cheese
1/4 cup fresh Italian parsley
Directions

With a large knife, cut stems off artichokes so they sit flat on the plate. While working with one artichoke, place others in a large bowl of water to which you added the lemon juice. This will prevent the artichokes from discoloring. Cut off top third of artichoke. With a pair of kitchen shears clip points off remaining bottom outer leaves. Repeat with remaining artichokes.
Fill the Oster Steamer according to the directions. Sprinkle artichokes with salt and steam artichokes for 30 – 32 minutes (depending on their size) or until one of the outer leaves pulls out easily.
Set artichokes upside down in a glass or stainless steel vessel and keep warm. At this point while the butter is melting you may want to take the artichokes and pull out the center leaves from, which should come out together like a small funnel and then with a teaspoon, remove the choke from the cavity; or each person may do this for themselves. (Do not use aluminum foil to cover.)
In the Oster Steamer rice bowl place butter, zest, pesto, salt and pepper. Place bowl in steamer and steam for 7 minutes or until all the butter is melted. Remove bowl from steamer and stir in Parmesan cheese and parsley. Place artichokes upright in serving dish and pour sauce all over, making sure to get in between the leaves.
The traditional way to eat steamed artichokes is to pull one artichoke leaf out at a time and scrape the tender meat from the bottom of the leaf with your teeth Be sure to remove the thistle-like choke in the center of the artichoke before enjoying the meaty heart.
Baked Eggplant
Ingredients

2 lb eggplant, sliced thin
2 tsp cumin
3/4 cup prepared tomato sauce
1/2 cup onion, finely chopped
2 tbsp butter
salt and pepper
Directions

Preheat oven to 450°F. Bake eggplant on a lightly oiled cookie sheet until cooked through, about 7 -10 minutes. In a skillet, fry onion in butter until translucent. Add the tomato sauce and cumin. Simmer for 20 minutes. Adjust salt and pepper, and add the eggplant. Simmer for another 5 minutes and serve warm.
Rainbow Coleslaw with Poppy Seed Dressing
Ingredients

1 head purple cabbage, cored and quartered
1 head green cabbage, cored and quartered
6 large carrots, tops removed and peeled
1/2 cup raisins or currants, optional
1 cup mayonnaise
3 tablespoons white wine or rice wine vinegar
2 tablespoons sugar or honey
Kosher salt and pepper
1 teaspoon poppy seeds
Directions

Place the slicing/shredding disk on shredding side and attach to food processor bowl.
Cover with lid and shred red cabbage, cutting pieces to fit down the food chute if necessary.
Place shredded cabbage in a large bowl.
Repeat with green cabbage and carrots.
Add raisins to bowl.
Remove slicer/shredded attachment and add steel blade attachment.
Add mayonnaise, vinegar, sugar, salt and pepper and pulse to blend.
Taste, and adjust seasonings and flavors.
Add poppy seed and pulse to blend.
Pour over coleslaw and toss well.
A kid-friendly, nutrient-rich side dish for burgers, hot dogs or pulled pork sandwiches.
Ingredients

1 can (28 oz) tomatoes, with juice
1/4 tsp garlic salt
1/4 tsp oregano
1 medium onion, cut in eighths
1 green pepper, cut in eighths
2 cups quick-cooking rice (uncooked)
1 cup Cheddar cheese cubes
1 tsp salt
dash pepper
Directions

Heat oven to 350°F. Grease a 2-quart casserole. Put all ingredients except rice into your Osterizer® Blender container. Cover and process 3 cycles at HIGH speed. Mix with rice and pour into casserole. Cover and bake for 35 to 40 minutes.
Citrus Glazed Yams
Ingredients

1 tsp honey
1 tsp raisins
1/2 tsp ground ginger
1 tsp cinnamon
juice of 1 lemon
Grated rind of an orange
2 jewel yams, sliced and parboiled
2 tbsp butter
salt
2 tbsp water
Directions

Melt butter in a heavy pan and mix in the honey and raisins.
Add the ginger, cinnamon, salt, lemon juice, and orange rind.
Mix well, and add water.
Add parboiled yams and coat with mixture.
Cover the pan and let yams cook over low heat for 5-10 min, turning them occasionally. Serve hot.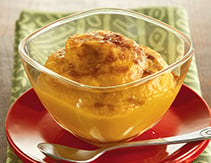 Ingredients

1 tablespoon butter
1⁄2 cup chopped onion
1 pound butternut squash, peeled, seeded and cut into 1-inch pieces
1 pound sweet potatoes, peeled and cut into 1-inch pieces
1 can (131⁄2 ounces) coconut milk*
3 tablespoons packed light brown sugar, divided
1⁄2 teaspoon salt
1⁄2 teaspoon ground cinnamon
1⁄4 teaspoon ground nutmeg
1⁄4 teaspoon ground allspice
1 tablespoon grated fresh ginger
Directions

Melt butter in large skillet over medium-high heat, tilting to coat pan evenly. Add onion; cook and stir 4 minutes or until translucent. Add squash, sweet potatoes, coconut milk, 1 tablespoon brown sugar, salt, cinnamon, nutmeg and allspice; bring to a boil over medium-high heat.
Reduce heat to medium-low; cover and simmer 10 minutes. Uncover and cook 5 minutes or until vegetables are tender, stirring frequently. Remove from heat. Stir in ginger.
Pour mixture into Oster® Versa™ Performance Blender. Turn Speed Dial to Medium-Low; blend 10 seconds or until smooth. Spoon into individual bowls; sprinkle evenly with remaining 2 tablespoons brown sugar.
*Shake vigorously before opening to mix thoroughly.
Nutrients per Serving (1⁄7 of total recipe): Calories: 231, Calories from Fat: 49%, Total Fat: 13g, Saturated Fat: 11g, Cholesterol: 4mg, Sodium: 228mg, Carbohydrate: 28g, Fiber: 3g, Protein: 3g
Mediterranean Rice
Ingredients

Cooking spray or olive oil
3 cups Basmati or long grain rice
3 cups chicken broth
1 cup water
2 tablespoons extra-virgin olive oil
2 tablespoons butter
1 large onion, chopped
1/2 cup freshly squeezed lemon juice
2 tablespoons fresh oregano
2 cups feta cheese, crumbled
1/2 cup kalamata olives, coarsely chopped
Directions

Coat rice cooker bowl with cooking spray or oil. Pour rice in rice bowl, and add chicken broth and water. Gently swirl to combine ingredients.
Close lid and set to Cook cycle. After machine switches to Keep Warm, unplug unit and allow rice to steam another 10 minutes.
In large skillet over medium heat, add olive oil and butter. When butter melts, sauté and stir onions until translucent and tender.
After steaming time is done, add sautéed mixture, lemon juice and dill to rice bowl. Using enclosed plastic rice paddle, gently combine ingredients. Close lid and steam for another 10 minutes on Keep Warm cycle.
Spoon rice onto serving platter or individual plates and sprinkle with feta cheese and olives.
Asparagus with Dijon Vinaigrette
Ingredients

2 lbs asparagus
2 cups extra virgin olive oil
1 cup white wine vinegar
2 tbsp dijon mustard
1 tbsp tarragon
2 cloves garlic, minced
2 tbsp sea salt
1 tbsp coarse black pepper
Directions

In an Oster® Food Steamer, poach or staem asparagus until it is slightly tender. Remove asparagus and rinse with cold water. Drain and lay out on a platter and pat dry. Mix together the ingredients for vinaigrette in a sealed jar and shake until the dressing is fully emulsified. Pour the vinaigrette over the cooked asparagus and marinate for 1 hour at room temp.
Vegetables Au Gratin
Ingredients

1 cup raw carrots
1 cup celery
1/4 cup butter or margarine
1/4 cup grated cheddar cheese
2 raw baking potatoes
salt and pepper, to taste
Directions

Peel the vegetables and cut them into 1-1/2 inch pieces. Place in steaming bowl of an Oster Food Steamer. Fill water reservoir to Max level. Steam for 15 minutes. Remove from steaming bowl. While still piping hot, baste with butter or margarine, then sprinkle with cheese. Add salt and pepper to taste.
French Fried Onion Rings or Shoestring Onions
Ingredients

2 large onions
2 cups milk
2 cups water
7 cups oil
Directions

Skin the onions and cut crosswise into 1/4-inch slices. Combine 1 cup of milk and 1 cup of water. Soak the onions in the milk and water mixture for 1/2 hour. Pour 7 cups of oil into Oster® deep fryer (the capacity may vary by the model number. For best results, check the instruction manual)." Preheat deep fryer to 350°F. Drain them, spread them on absorbent paper and spread Fritter Batter for Vegetables on the onions. Fry in deep fryer for 5 minutes or until light brown. Drain on absorbent paper.
Broccoli Rabe Aglio Olio
Ingredients

1 bunch broccoli rabe, cut into 1-inch pieces
1/2 cup olive oil
5 to 6 garlic cloves, minced
1 cup white wine
salt and pepper, to taste
Directions

In an Oster® Food Steamer, steam broccoli rabe until it just turns tender and set aside. In a heavy skillet, heat olive oil and garlic over medium heat. Let garlic cook until it begins to brown. Add white wine and bring to a rapid simmer. Let mixture simmer until it reduces in volume by half; salt and pepper to taste. Add broccoli rabe and simmer about 3 minutes. Serve warm.
Rosemary Potatoes
Ingredients

3 lbs small red potatoes
3 to 4 tbsp fresh rosemary leaves
2 tbsp olive oil
Salt and fresh pepper to taste
Directions

Scrub potatoes well; then, cut into wedges, and drop into a large pot of boiling, salted water. Cover and cook thoroughly, until fork-tender. Remove from water and allow to cool. Brush potatoes with olive oil, then sprinkle with rosemary, salt, and pepper to taste. Place potatoes on a greased cookie sheet and bake at 350°F until brown and crisp.
Scalloped Potatoes
Ingredients

6 Yukon Gold potatoes
3 tablespoons butter
1/2 cup heavy cream
Kosher salt and pepper
8 ounces gruyere or cheddar cheese
Directions

Preheat oven to 375°F.
Place slicing/shredding disk on bowl of food processor. Cover with lid and cut potatoes to just fit into food chute. Turn ON and press potatoes through chute with food pusher.
Remove potatoes and place in large saucepan with butter, cream, salt and pepper.
Bring to a boil, turn down a simmer and cook until potatoes are just tender.
Turn slicing/shredding disk on shredding side and shred cheese.
Pour potatoes into a buttered baking dish and spread out evenly and season with a little more salt and pepper.
Sprinkle with shredded cheese and bake in over for approximately 20 minutes until cheese is melted and golden brown.
This quick, luscious gratin is great with roasts of all kinds.
Chinese Style Baked Acorn Squash
Ingredients

2 large acorn squash
1 tbsp peanut or vegetable oil
1 tbsp ginger, minced
2 tsp garlic, minced
4 green onions, shredded
1 bunch bok choy, chopped
4 dried shiitake mushrooms, soaked and sliced
4 oz diced tofu or chicken breast
1 small red bell pepper, sliced
3 tbsp tamari
1 tbsp rice vinegar
2 tbsp rice syrup
1 tsp 5-spice powder
Optional: 1 tsp chili paste with garlic
Directions

Preheat oven to 400°F. Wash the squash well. Slice off the top end, about 1 1/2 inches from the base of the stem. Scoop out and discard the seeds and membrane from the interior of the squash. Shave off a thin layer from the bottom of each squash if necessary so that it will sit upright. Heat the oil over in a wok or in an Oster® electric skillet until hot but not smoking. Add the garlic and ginger and stir fry for 1 minute. Don't let the garlic brown as it will taste bitter. Add the green onions, bok choy and mushrooms. Continue to stir fry until the bok choy is wilted. Stir in the remaining filling ingredients and continue to cook for one minute. Fill each of the large halves of the squash with filling, and top the squash with the matching lid. Place on a baking sheet and cook for 2 hours, or until very soft. To serve, bring to the table whole and scoop out the filling along with the squash.
Roasted Sweet Potatoes with Apples & Raisins
Ingredients

1 large sweet potato, peeled and cut into wedges
2 crisp red apples, cored and cut into wedges
1 tablespoon oil
2 tablespoons honey
1/4 cup raisins
Directions

Set Oster® Toaster Oven to 375°.
Place potatoes and apples in separate bowls.
In microwave-safe bowl, mix oil and honey and warm in microwave, about 10 seconds.
Pour half the sauce onto potatoes and 1/2 onto apples. Toss to coat well.
Place potatoes on roasting pan and bake in Oster® Toaster Oven for 25 minutes.
Remove from oven toss with apples and raisins and return all to the oven and continue cooking for 30 minutes or until the potatoes are cooked through and glazed.
Mashed Potatoes with Pancetta
Ingredients

8 ounces Pancetta or bacon, chopped
2 pounds Yukon Gold potatoes, peeled and cut into 3 inch chunks
1/4 cup butter
1/2 cup milk, warmed in microwave for 20 seconds
1/4 cup heavy cream
Kosher salt and pepper, to taste
Directions

In a medium skillet, sauté pancetta or bacon until golden and crispy; reserve drippings.
Place potatoes in lower steaming bowl and steam until tender and easily pierced with fork, about 30 minutes.
Transfer potatoes to large bowl and add butter and warmed milk and cream.
Mash with potato masher until smooth and creamy.
Mix in pancetta and if desired, add 2 tablespoons of pan drippings.
Season with salt and pepper to taste.
Steaming potatoes gives a creamy texture that is not achieved in other cooking methods.
Deep Fried Sweet Potatoes
Ingredients

6 large sweet potatoes
7 cups oil
1 tbsp brown sugar
1 tbsp salt
1 tbsp freshly grated nutmeg (optional)
Directions

Wash the sweet potatoes, then parboil for 15 minutes. Pare and cut them into strips. Pour 7 cups of oil into deep fryer. Preheat the Oster deep fryer to 350°F. Fry the sweet potato strips in the deep fryer for 15 minutes or until they are golden brown. Drain them on absorbent paper. Sprinkle with salt, brown sugar or freshly ground nutmeg.