Images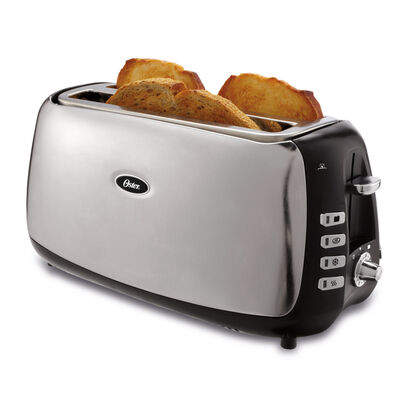 Oster® 4-Slice Long-Slot Toaster
Details
https://www.oster.ca/en_CA/toasters-and-countertop-ovens/toasters/oster-4-slice-long-slot-toaster/TSSTJCPS01-033.html
Oster
TSSTJCPS01-033
https://www.oster.ca/on/demandware.static/-/Sites-master-catalog/default/dwebfc27a5/images/highres/TSSTJCPS01-033-1.jpg
Get your kitchen popping for breakfast with the Oster® 4-Slice Long-Slot Toaster.
Product Specs:
Dimensions: H 7.28" X W 7.32" X D 15.59"
See More...
Additional Information
Start your day with toast made your way. This 4-slice toaster is equipped to toast breads, bagels and more to your taste. Advanced toasting technology and settings from light to dark provide consistent results every time so that you can enjoy the perfect texture and shade of toast, bagel, waffle or English muffin. 2 extra-long slots accommodate 4 standard bread slices or 2 larger, artisan-style breads or other food items. With the Oster® brand, you can cook with passion and serve with pleasure.
7 toast shade settings
Extra-wide slots with dual, auto-adjusting bread guides
TOAST, BAGEL select and FROZEN, WARM, CANCEL functions
Anti-jam auto shut-off
Toast lift
Removable crumb tray
Oster® 4-Slice Long-Slot Toaster
is rated out of
5
by
16
.
Rated

1

out of

5
by
LysineCarsick
from
Disappointing!
I bought this toaster as a gift for my husband at the start of "tomato season" for our many dinners of BLTs. We previously had a $15 toaster from Fleet Farm that was just a 2 slice... This toaster cost $50 and is the worst toaster we have ever had. It toasts unevenly and often burns one spot and leaves another un toasted. I thought I was splurging on what was going to be the best toaster, and now am stuck with burned toast every morning. We have many other Oster products and have always been happy with them, but this toaster is the worst!
Date published: 2014-10-03
Rated

1

out of

5
by
dupped
from
lts of hipe1
THIS IS MY 3RD ONE. I Keep trying because we in Canada cant get a decent product and its one of only two available in the long slot 4 slice. T-fal has one but only in the USA. Used the setting to toast bread not bad, frozen bagel got charcoal, frozen bagel on toaster setting to light for me reset and it burnt. It's a guessing game. 21st and still cant get a company to produce something that will toast bread properly. 60 years ago I had a toaster that i had to watch and flip the bread manually this is not mush better other that it pops up itself. So disappointed.
Date published: 2014-12-18
Rated

1

out of

5
by
StaceyS
from
Worst Toaster Ever
We had a 4 slot toaster before which was amazing until my daughter decided to put a plastic plate on top of it while toasting bread. Needless to say, the plastic melted and ruined our amazing toaster. We decided to purchase this toaster because of the long slots and still being able to toast 4 slices at once. Worst decision ever. Without changing the setting, you can put toast in the first time and it comes out ok. The second time (new bread) and it burns it. The third time (again new bread) and it won't even toast it. How can this even happen?! I am so disappointed. It was $60 but I can't find my receipt to even take back to the store and get my money back.
Date published: 2015-11-02
Rated

2

out of

5
by
Orgal
from
Its only OK
I bought the toaster a few weeks ago. Its OK no more. I guess if I want more quality I have to pay more. Its hard to get the bread toasted right. The bread is either slightly burned or undone. It is a science to get it done the right way. Before I had a great one from another company that was about the same price but they stop making it. I need the long one because of the bread I buy. It also makes noises when I use my electric kettle like there are loose parts in it. I ordered it online so I can't be bothered with returning it, but I would if it was from a store.
Date published: 2016-11-24
Rated

1

out of

5
by
Rebecca
from
Horrible Toaster
I bought this after Christmas and it has been awful from the beginning. It pops up too soon so the bread is not toasted. Then it doesn't pop up the second time and burns the toast. Never have I ever had to push a button before putting the bread down. That light never stays on anyways. Horrible and a waste of money. Will replace as soon as possible. Too bad it was so expensive!
Date published: 2015-04-12
Rated

1

out of

5
by
Ricbe
from
strange amchine
Bought this machine a few months ago. It has the strangest problem. I set the control to about 1.5 or 2 and it produces good toast. After the toasting I go back later and the control has advanced to the darkest setting. This happens about 60% of the time. I decided to find out what happens if I set the control to 2, do not toast anything, then go back later. the result,,,the control has moved to darkest setting !! I think I actually may have a ghost in my home !! Any way the more we use this toaster the less reliable the toasting is. even at a setting of 1 the toast is often burnt. Such a shame because I need a long slot toaster to toast products from my bread maker and the bakery in my supermarket.
Date published: 2017-11-18
Rated

1

out of

5
by
Albert
from
Poorly designd
When you purchase a toaster you expect it to make toast. This toaster burns the edges of everything causing smoke in the kitchen setting off the fire alarm. I often wonder if these manufactures ever try using these before they put them on the market. Do not purchase this item or you will be disappointed.
Date published: 2015-06-10
Rated

1

out of

5
by
Bita
from
Worst toaster ever!
If I could give this product zero stars I would. My previous toaster was an Oster and I was very happy with it. Unfortunately, I can't find that one in any store, so I decided to go with this one. Worst decision I could have made. Doesn't matter which setting it's on it burns bread to a crisp before it even pops. The bagel button does not toast only the inside of the bagel it burns both sides. I'm very disappointed and frustrated that I now have to waste time returning it. I would not recommend Oster to anyone based on this toaster.
Date published: 2016-04-13