Images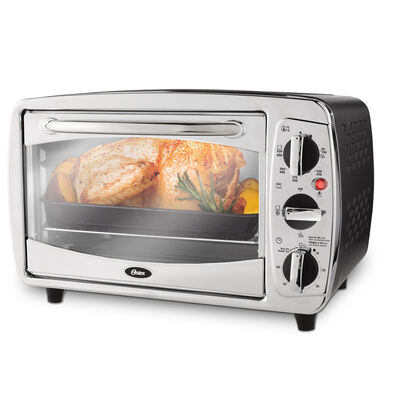 Oster® 6-Slice Countertop Oven, Stainless Steel
Details
https://www.oster.ca/en_CA/toasters-and-countertop-ovens/countertop-ovens/oster-6-slice-countertop-oven-stainless-steel/TSSTTV0000-033.html
Oster
TSSTTV0000-033
https://www.oster.ca/on/demandware.static/-/Sites-master-catalog/default/dwcea411f9/images/highres/TSSTTV0000-033-1.jpg
From baking to roasting, and every culinary creation in between, use the Oster® 6-Slice Countertop Oven for cooking your best creations.
Product Specs:
Dimensions: 18.50"W x 15.66" D x 10.62" H, Weight: 11.94lb.
Cord length: 31"
Watts: 1500W
See More...
Additional Information
Cook with the convenience of an oven on your countertop. The large capacity can fit an entire frozen pizza. This oven features an adjustable broil at low-heat for items like cheesy garlic bread or at high-heat for meats and a 150-450°F temperature range. It takes you from toasting to roasting with ease. Avoid turning on your conventional oven to keep the kitchen cooler and to conserve energy. With the Oster® brand, you can cook with passion and serve with pleasure.
150-450° temperature range
2 rack positions
60-minute timer with auto shut-off and bell signal
Bake, broil and toast functions
Removable crumb tray
Durable enamel baking pan and broiler rack
Brushed stainless steel accents
Chrome accent
Oster® 6-Slice Countertop Oven, Stainless Steel
is rated out of
5
by
65
.
Rated

5

out of

5
by
csaunders
from
Usability
This product has a great ease of use for the whole family. My teenage daughters use the oven for numerous breakfast foods. Heats up quickly compared to our main electric oven! This oven saves so much time! I like the broil function and you can view the process because of the glass door. I did notice that foods tend to cook more evenly in this oven. Don't be fooled by a smaller stature, I cooked two items at one time this past weekend! I recommend this product to any anyone, especially for the busy families! I did receive this product as a sample product, but it exceeded by expectations tremendously!
Date published: 2014-12-01
Rated

4

out of

5
by
RonRenken
from
Convenient size!
I received this oven in a product testing survey. We were quite excited to be offered the opportunity, mainly because we have moved into a small condo. I used to have a great convection oven, but had to leave it behind at our old house. We cleared a space on the counter, and found it to fit perfectly. For the past several weeks, we have used it to cook pizza (they have designed the back to protrude a bit allowing full size pizza!), bacon, and reheat numerous left over meals. The oven works great for these simple jobs. I was a bit concerned that the fan did not run after selecting the turbo option, but found it kicked in after coming up to temp. The size and weight allow us to transport it easily for use as an additional oven for large events such as Thanksgiving.
Date published: 2014-11-26
Rated

2

out of

5
by
MACKK
from
Hidden Human Interface
This is the second Oster countertop oven that I have had. The first lasted for a long time but I found it difficult to disassemble the front glass to clean crumbs from between the glass and the hardware. I like this oven, it functions very much like the last one. The major problem I have with this model is the controls. The chrome trim is very reflective so I can't see any of the settings. I need to set a piece of white paper in front of the oven so that I can even begin to see the settings. My eyes aren't really that bad and I can't believe I am the only person with this difficulty.
Date published: 2018-12-01
Rated

2

out of

5
by
Willy
from
Poor quality
I have been an owner of a toaster oven for over 25 years and have used them almost daily for toasting and baking brownies, pizza, and casseroles. I bought this Oster oven in November 2013 (first one because of size since I have limited counter space) to replace a 10 year old one that failed. Yesterday, it stopped working so I will be shopping for another brand today. I will say that the oven functioned as well as the other ones that I have owned but I feel it should have lasted more than 26 months.
Date published: 2016-02-03
Rated

4

out of

5
by
Kathy
from
Nice toaster oven! Great 60 minute feature
Bought this for my daughter for her university apartment. She loves it. Obit rain I have it four stars instead of five is that in the picture you can see the control names really clearly, but because of the chrome colour, the words around the controls are actually more difficult to read. Otherwise great unit asks the 25% off special made it even more affordable.
Date published: 2016-10-07
Rated

5

out of

5
by
DaQueenBee
from
Love this oven!
Reliable and surprisingly large interior. Pleasantly surprised with it. The first countertop oven that I a really happy with.
Date published: 2014-10-25
Rated

4

out of

5
by
ALSO
from
Awesome!!!!
I love the Oster Oven. It cooks things great, very easy to use. I have been able to cook about a 3-4 lbs roast in it. And I also "grilled" some steaks on it. Everything came out fantastic. My house doesn't heat up like crazy when I use it so that's a huge plus. I do I have some things that I didn't like but by no means do they take away from all the good points. The temperature knob gets hot I wasn't really expecting that I knew that the outside would but not the temperature knob none of the other knobs got hot. I also in countered a issue with getting the pan that you can bake in and that catches all the liquid and things that drop off of the meat your cooking. When I cleaned it I noticed that some of the teflon like coating started to come up, however that hasn't stopped me from use the oven just means I won't be using that pan for anything other then a catching pan. As a disclaimer I did receive the Oster Stainless steel oven as a sample to review.
Date published: 2014-11-27
Rated

2

out of

5
by
Barnard05
from
Finicky
I bought this toaster oven about 3 years ago at a great price. It worked great for toasting, baking pizzas/cookies, etc., but every now and then it would refuse to turn on - the light would come on, but it would not heat. I'd give up, then try again the next day it would work fine. I checked the outlet, breaker, everything, and I know I was following the directions. This happened several times in the last 3 years. Now it's stopped working completely.
Date published: 2015-02-13
Rated

5

out of

5
by
Patti57
from
Better than. A microwave
Love this product. This is my third oven. We use it instead of a microwave, makes reheated food taste better than putting it in the microwave and keeps things crispy. Love using it to make small frozen pizzas and fish stick for my granddaughter and she makes her own muffins in it. Safer than the big oven.
Date published: 2014-09-07
Rated

5

out of

5
by
jackieearl
from
Awesome Counter Top Oven!
I have had the Oster Convection oven for over a month and I love it! It is simple to use and great to be able to cook something small without heating up my regular size oven. I love that the timer has an automatic shut off and a bell, both my kids(ages 13 and 16) are able to use it easily. We have baked cookies, french fries, chicken and even a small pan of baked ziti! This is a great oven and I would highly recommend it to my friends and family! I was lucky enough to receive this through a sample program to review after I used it!
Date published: 2014-11-27
Rated

3

out of

5
by
Not Toasted
from
Not Stainless Steel As In The Description!
Received the oven today, after unpacking we discovered the front cover is not stainless but chrome. The only stainless "effect" is on the oven door handle. Oster, you need to change the title on the description as it is totally misleading! Sure you do say "Brushed stainless steel accents" and "Chrome accent" in the listing details but that is also misleading. It should say Chrome finish on cover and controls with a brushed stainless steel oven door handle. Not really happy about this at all.
Date published: 2016-11-25
Rated

5

out of

5
by
katedress
from
Very happy with its efficiency!
I received this product as a sample. I had a toaster oven I was pleased with but this one surpassed my precious experience and expectations! We prefer toaster ovens in our house over microwaves to the point we don't even have one. So the toaster oven we would want needs to be convenient, easy to use, cooks food properly, easy to clean and looks nice sitting on the counter. The Oster toaster oven is all the above. Most ovens will have that chemical smell in first time use, even after following the instructions before using it with food and this oven did not. It has easy to use dials with a nice appearance. It cooks the food efficiently and as expected. The removable pieces are easy to clean and it looks great sitting on my counter. I would recommend this to anyone!
Date published: 2014-12-01
Rated

5

out of

5
by
AngieG86
from
Great Little Addition to the Kitchen!
I received my oven about a month ago and have used it many times since. At first I was unsure of how much use I'd get out of it, as I have a full-size oven. I quickly realized this was a treat to have around for simple things, like garlic toast and frozen appetizers. Everything heats up faster than a large oven, cooks or toasts much more evenly and the whole kitchen doesn't get hot! It is also helpful when cooking for a large quantity of folks. I found I could cook 2 trays of frozen fries in my standard oven and supplement another tray (equivalent of 1/2 a large cookie sheet) in the toaster oven. This was great. Overall I'm very satisfied and would for sure recommended this to anyone. The footprint isn't very large either, I have mine on a bakers rack and it fits perfectly.
Date published: 2014-12-01
Rated

4

out of

5
by
Matt
from
What do the symbols mean?
I would rate higher if the manual said which symbol/icon refers to which setting. Model TSSTTV0000
Date published: 2015-04-14
Rated

4

out of

5
by
Happy Granny
from
You can't know how happy I am to have found this!
I purchased this appliance over four years ago. I hadn't actually even set it up. In 2015 I had intensive spinal surgery which required extensive physical rehabilitation. When I made it back home, I still had to take advantage of services like "Meals on Wheels". Eventually, my youngest daughter moved in to help me with household affairs as I recovered. Since she has four children (including, at the time, a newborn), the Oster Countertop Oven really got a workout! I would definitely recommend it for families with young children. The younger ones (including the baby as she grew) ate at different times than the school kids A microwave isn't always the best choice for preparing childrens' meals. And it is certainly better than heating up the kitchen by having to use the big oven.
Date published: 2019-10-19
Rated

3

out of

5
by
Cleone
from
Convection or not
When I ordered this oven I was under the impression that it is a convection counter top oven which is what the description detailed. I cannot find a fan in the oven though. Is it a convection or not? If it isn't the description should be updated to reflect this.
Date published: 2015-04-10
Rated

4

out of

5
by
Kimberlyad
from
Sleet design!
I love this Oster convection oven. I like its small compact size fits nicely on my counter. It has a sleek stainless steel design. I like how I could cook a variety of things from a batch of brownies to a pork roast. I found that it cooked evenly all the way through. I like the adjustable shelves and the timer unit on it. I would definitely recommend this product. As a disclaimer I did get this product for free to use and review. I would definitely buy this product for myself or for someone as a gift.
Date published: 2014-11-26
Rated

4

out of

5
by
caddyilac
from
Great Counter Top Oven!
I really have loved this product from Oster. I received this as a sample to test and I can't believe I never had one sooner. It is great for cooking all sorts of things. I have cooked hot wings, french fries, asparagus, and many other things as well. I really like it because it is fast and convenient to use. I am often cooking just for myself and its so much easier than using the traditional stove. I would highly recommend getting this product and plan to give one or two to family members this Christmas. The only reason I did not give it a total of 5 stars was because the products quality and materials do not seem to be up to par with other Oster products I have. All of my small kitchen appliances are from Oster and they all seem to have a slightly higher quality of material to them.
Date published: 2014-12-01
Rated

5

out of

5
by
our_never_ending_summers
from
Great countertop oven
We received this as a wedding present and it sadly sad hidden from the world for a while. When we renovate our Motorhome, we pulled out the oven and stove combo and decided to use our Oster as the replacement oven. It was an extremely smart move for us as it got perfectly in its current spot and has handled just about anything we have thrown at it. Frozen pizza from the grocery store? Easy day. Home made pizza? Simple. Baking garlic bread? You know it! Broiling ribs from the (other company name) pressure cooker to get that beautiful top glaze? Just another Tuesday afternoon. Toasting a bagel? Well yeah it does that too if you want. It is a great piece of gear for our home and we use it several times a week with no issues. Highly recommend [This review was collected as part of a promotion.]
Date published: 2019-06-29
Rated

1

out of

5
by
Marie1
from
1 year warranty says it all
I purchased this toaster (9/2017) to replace a 12 year old (seen better days) toaster (same features). But now I wished I had kept the old one. This toaster lasted 3 months over the 1 year warranty. I did enjoy the spaciousness and was even thinking of purchasing another rack to cook 2 pizzas at a time. Daily user - quality NOT there (throw away toaster) - in fact still looks new because we protected this one better than the 12 year old toaster (lessen learned).
Date published: 2019-01-03
Rated

5

out of

5
by
Kreed2312
from
Time savor for large family
This Oster oven is one of the best kitchen appliances I have ever owned. It has saved me time and energy on multiple occasions. It's been a quick answer to an afternoon snack like pizza rolls. It also on many occasions has helped me have dinner ready for everyone ( some of us like our items a little more done than others) at the same time . I would give this appliance a 5 out of 5 star rating ( Disclaimer I received this product as a sample to review)
Date published: 2014-12-03
Rated

4

out of

5
by
jamieb0507
from
Love my oven
I got my Oster oven about a month ago and I never imagined I would use it so often! It's so easy to just pop in a sandwich to heat up or warm up leftovers without turning on the big oven. Much better than reheating in the microwave. My only negative would be that the stainless from makes it hard to read the knob settings. I guess the reflective quality of the stainless. But I love the look of it and wouldn't change a thing.
Date published: 2014-12-03
Rated

4

out of

5
by
Aj14
from
Don't call it a toaster oven
This is much more "oven" than "toaster." Does that make sense? My previous experiences with similar appliances consisted of those cheap ones than end up sitting in the office break room with a big burn spot on the top of them. This is different. I've cooked casseroles in it, and even baked bread. This thing cooks better than my oven. It is not big enough for a 9 by 13 pan, but should fit an 8 by 8. For me, that's pretty impressive. It preheats faster than an oven, and shouldn't heat up the house either. Downside would be no preheat function. Just turn it on and figure in a few minutes that it's hot enough. Also, you can set a timer, that turns it off when it's done, or just set it to on. There's no in-between where a time can go off without it turning the whole thing off. Note: I was provided with this product free of charge in exchange for testing and reviewing it.
Date published: 2014-11-27
Rated

5

out of

5
by
debora023
from
My first convection oven! Love it!
This is my first convection oven and I was pleasantly surprised. I basically wanted a toaster oven but the convection feature was an added plus. The oven is easy to operate with just a few turns of the knobs. I do wish the knobs were a little more robust or it was digital as they feel a little flimsy and could be a problem with a lot of use. I baked a frozen pizza with the convection feature and it cooked perfectly in just a little less than normal time. What amazed me was how quiet the fan feature is that runs during convection baking. You can hardly hear it which is wonderful! I expected something noisier. The toaster feature worked great and toasted evenly. I just have to get use to the settings as there is no light or dark settings for toast just a temperature and you have to watch your time. Once you figure out how long it takes to toast it like you like then you can just set the timer. The oven feature works like other toaster ovens I have had...no problem. I like the roominess of the oven versus a traditional toaster oven size. It is nice to be able to bake larger items efficiently. The oven is attractive in stainless and black so looks nice if you leave it out on your countertop. One downside is that the exterior metal gets extremely hot during use. There is protection from the heat around the handle in the door however it didn't take much and my fingers moved and got burned. But now I know to be more careful! Overall a great appliance and it's nice to bKe without having to heat up the house with the regular oven! Looking forward to using it a lot during the holidays! I received this product as a sample to review.
Date published: 2014-11-30
Rated

4

out of

5
by
CirqueDallas
from
Love this little oven!
Very nice! This oven has a nice large capacity and heated evenly. I love that it has 3 rack levels which come in handy, especially if you're wanting to broil. If I could change just 1 thing, the door needs the little 'hook' that connects to rack so it pulls out when you open the door. Other than that, it's a great little oven!. *DISCLAIMER-This unit was provided to me as a sample to review
Date published: 2014-11-30
Rated

4

out of

5
by
ci7766
from
Looks and works great!
This product works great. We've heated up everything from fries to mozzarella bites and it heats them up quickly and evenly. The first time we used it it had the burning smell, but I think that's normal and it hasn't happened since then. It matches all our other appliances perfectly! Disclaimer: I was sent this product as a sample to review but all opinions are my own.
Date published: 2014-11-30
Rated

4

out of

5
by
EPH835
from
Love it!
I love this convection oven! with several cooking temperature options and a large cooking area, I feel like I can complete any job! everything I have had was cooked evenly and perfectly! the only downside, and it's minor, is the size... due to the large size of the oven, it takes up considerable space. but I love it anyway. I did receive this product as a sample.
Date published: 2014-11-26
Rated

4

out of

5
by
dreamchrisdream
from
Decent Toaster Oven
Overall, this isn't a bad toaster oven. The build quality is a little on the cheap side, but what do you really expect in this price range. The only thing I really didn't like was how racks didn't clip in at all, so when you would pull out the tray, it would pull on the rack. Otherwise it has been a pretty good little oven. It cooks a loaf of bread in a snap.
Date published: 2014-12-02
Rated

4

out of

5
by
Meking
from
This oven gets the job done
I loved this oven. It cooked my food fast, easy and in an evenly cooked way. No fuss of having to heat an entire oven for just a slice of pizza. I love how easy it is to clean also. The kids were also able to pop in their frozen food items and do the cooking themselves. Definitely recommend this oven. *i received this oven as a sample to review it*
Date published: 2014-12-01
Rated

4

out of

5
by
zsmomma
from
Convenient and works well!
This oven worked great during busy baking times when my oven was busy and I had lots to cook! I like the overall design as well. I liked how my counter was kept cool and I didn't need to worry about it melting anything! Overall 4 stars because I thought the construction could be a bit sturdier. I was given this product as a sample to review.
Date published: 2014-11-29