Images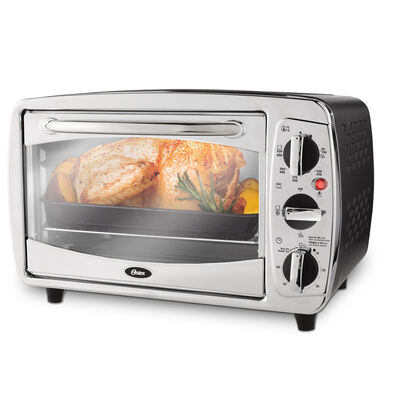 Oster® 6-Slice Countertop Oven, Stainless Steel
Details
https://www.oster.ca/en_CA/toasters-and-countertop-ovens/countertop-ovens/oster-6-slice-countertop-oven-stainless-steel/TSSTTV0000-033.html
Oster
TSSTTV0000-033
https://www.oster.ca/on/demandware.static/-/Sites-master-catalog/default/dwcea411f9/images/highres/TSSTTV0000-033-1.jpg
From baking to roasting, and every culinary creation in between, use the Oster® 6-Slice Countertop Oven for cooking your best creations.
Product Specs:
Dimensions: 18.50"W x 15.66" D x 10.62" H, Weight: 11.94lb.
Cord length: 31"
Watts: 1500W
See More...
Additional Information
Cook with the convenience of an oven on your countertop. The large capacity can fit an entire frozen pizza. This oven features an adjustable broil at low-heat for items like cheesy garlic bread or at high-heat for meats and a 150-450°F temperature range. It takes you from toasting to roasting with ease. Avoid turning on your conventional oven to keep the kitchen cooler and to conserve energy. With the Oster® brand, you can cook with passion and serve with pleasure.
150-450° temperature range
2 rack positions
60-minute timer with auto shut-off and bell signal
Bake, broil and toast functions
Removable crumb tray
Durable enamel baking pan and broiler rack
Brushed stainless steel accents
Chrome accent
Oster® 6-Slice Countertop Oven, Stainless Steel
is rated out of
5
by
65
.
Rated

4

out of

5
by
delyj
from
Love the look and spacious interior!
I really enjoy using this oven. It's sleek, not to small and not too big on my counter top. The grate is rounded at the back and it allows for a little extra room that you don't usually get in a toaster oven this size. I love the controls and options. My only complaint is that I want the door hinges to be stronger. I expect them to catch and drop the door, so it slams on the counter! oops. It is also a little loud, but that is to me expected with a convection oven. I prefer the toaster oven to cook most things that will fit into it rather than my conventional oven and I definitely prefer it to the microwave when I have the time to choose it.
Date published: 2014-11-26
Rated

5

out of

5
by
Kelly2
from
Great versatile oven!
I received the Oster stainless steel convection oven as a sample to review the product, and I am so pleased with the oven! I wanted something simple that's smaller, so I'm not always having to use my big oven. This product is great for toasting bread, cooking, re-heating, baking and more. It's a really versatile product. It heats up quickly so it's ready to use fast but at the same time it isn't hot on the exterior, a problem I've had with toaster ovens before. So far I have had no issues. It looks nice and is a great size that fits different items, big and small. It barely makes any noise and I like all the different uses and functions available with this oven. It's perfect for what I need, definitely worth the price.
Date published: 2014-11-29
Rated

1

out of

5
by
jbrad
from
Baking spikes to 550 °
Bought this a little over a year ago. Worked great until last week and now during the baking function the temp. spikes to 550 °. I put an oven thermometer in the oven. Set the bake temp. to 400 °. and with 23 minutes left the heat spiked to 550 °. What is scary about this is the ovens max temp. is 450. I am just glad I saw the smoke coming out of the oven. I am on a fixed income and will not be able to replace the oven anytime soon. [This review was collected as part of a promotion.]
Date published: 2017-09-02
Rated

5

out of

5
by
Siameseclint
from
Quick and easy for everyday use
Great little oven. I use this oven for quick easy meals. Like toast, grilled sandwiches and personal pizzas. I even tried cooking chicken quarters. And it turned out great. The skin had a nice golden brown color. And the meat was moist and juicy. My favorite part of this oven is the lack of confusing controls or goofy LCD display. It just has simple dials to get the settings you want. Just like a standard oven. Just turn the dial and you're ready to cook. Quick wand easy. I received this product as a sample to test. And I use it everyday.
Date published: 2014-11-26
Rated

5

out of

5
by
Denise Number 13
from
Convenient with multiple uses
Overall I think this convention oven is convenient and versatile. I love to use this for toast, heating leftovers, making a small batch of cookies or cooking biscuits, cinnamon buns or dinner rolls. This oven provides the convenience of having a second oven. While cooking dinner in the I've. It is great to be aw to have a second appliance to cook biscuits or dinner rolls. Toasting waffles or toaster strudels is easy as well. Pizza bites or pigs in a blanket is much more convenient the. Turning on the oven. Over all, this appliance has lots of uses and is great for a couple or family of multiple kids. Its ease of use allows teens and tween alike to use while mom isn't in the kitchen.
Date published: 2014-12-01
Rated

4

out of

5
by
Ksfox0902
from
Good Quality Convection Oven
I received my Oster Extra Large Convection Oven over a month ago and I use it all the time. I have cooked a pork loin, chicken, pizza, and lots of other things. The meats stay juicy and the pizza crust is crispy without tasting burnt. It also cuts the cooking time down dramatically. The design is very attractive. The dials are large and easy to use and it has a curved appearance which is very appealing. It has a timer which is very useful and multiple baking temperatures to choose from. It also has a removable crumb tray which has come in very handy. I would recommend this oven to anyone looking for a convection oven. I received this convection oven for free as a sample to try and review.
Date published: 2014-11-29
Rated

4

out of

5
by
gapooh
from
Very Good little machine.
Got this machine about a month ago. I really enjoy it. I love how the back of the oven is curved. It makes it easy when making quesadillas as the tortillas actually FIT in the oven. I've also cooked frozen pizzas in it as well for that reason. The convection aspect seems to work ok. I don't notice a big difference in time, but it does cook very evenly which is good. I love not having to heat up the entire kitchen with my full size oven. Clean up is easy. The timing mechanism could stand to be a bit more accurate (feels almost like a cheap kitchen timer).. you know, wind it up past 10 minutes, then adjust accordingly... "ding" your pizza is done. Pros: curved back AND cooking rack. even cooking Cons: time seems cheap.
Date published: 2014-11-26
Rated

3

out of

5
by
Jewel27
from
Good toaster oven
The oster toaster oven was easy to use. It has quite different options for cooking things in regards to temperature however I wish it was a little larger inside. I wasn't able to fit full size pizza or anything large like that inside that I would like to. I was able to cook things like bagel pizzas, chicken breasts, toast. It took me a while to figure out the different settings on the counter top oven but it does come with an owners Manuel to help with any questions I had! The food cooked faster in it than the actual oven so you do have to keep any eye on that and adjust the timing accordingly.
Date published: 2014-11-26