Images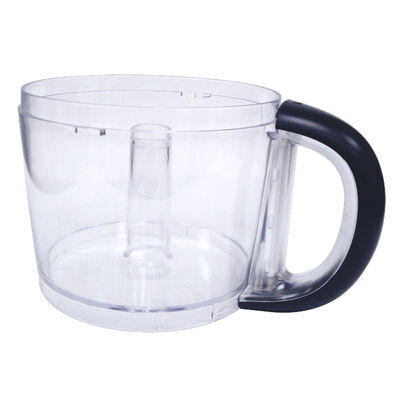 Oster® Food Processor Bowl
Details
https://www.oster.ca/en_CA/parts/other/oster-food-processor-bowl/999977613.html
Oster
999977613
https://www.oster.ca/on/demandware.static/-/Sites-master-catalog/default/dw8efbf399/images/highres/999977613-1.jpg
Availability:
This item is currently not available online.
Replacement bowl for use with Oster® brand food processors.
See More...
Additional Information
Comptaible with Oster® food processor model FPSTFP3122.
Food processor bowl lid not included
Oster® Food Processor Bowl
is rated out of
5
by
15
.
Rated

2

out of

5
by
Brenda
from
Disappointing
My dad purchased this food processor, and only after the second use, that piece of plastic in the handle broke. It is currently usable, except locking it in place is very tough to do. I'm thinking the design of this item needs to be changed so it works a lot better. I am looking at replacing the bowl, which is currently not available online. Im thinking the price should be dropped lower, considering a customer should not have to replace it, as the unit is pricey. The until works well. Im not impressed with having to replace the bowl for a little piece of plastic that is a crucial part to it functioning properly.
Date published: 2015-10-03
Rated

2

out of

5
by
Heather
from
Great motor, poor quality bowl
I bought this food processor because I've had great experiences with other Oster products. This one was a huge disappointment. After just a few uses, pieces of the bowl started to break off where the lid locks in place. I've been searching for a replacement bowl, but it appears that they have been discontinued, so I'm left jury-rigging it to get it to work each time I want to use it. If the bowl from another model fits this machine, Oster, please let us know. The only thing wrong with this product is the bowl/lid. If Oster can remedy this, I'll be a satisfied customer. Until then, I recommend doing careful research before buying an Oster product.
Date published: 2016-04-24
Rated

1

out of

5
by
Rainie76
from
Very disappointed
I am very disappointed that a very very small piece of plastic in the top of the handle (which locks the lid in place) has broken off after only 14 months seldom use. And now I find that not only do I have to purchase a total new bowl but the replacement is not available!!! What am I left with - a food processor that is barely over one year old and of no use? I have always purchased Osterizer products in the past and been thoroughly satisfied; but this food processor and my latest Oster blender are a bit disappointment in quality.
Date published: 2015-05-15
Rated

1

out of

5
by
Lia1
from
Bad quality plastic on top handle
I have use it not as often as I wanted to because it was always so hard to lock the top. This was designed to break easily. Yesterday the little plastic on top of the handle broke and without that little plastic part, the machine doesn't work. I was checking on line and this website doesn't have the food processor bowl available online, I have no idea how much they would want to charge, but I woudn' t pay more than $5 dollars for this bad quality plastic bowl. I used my points last year so at least I don't regret spending money on it, buy I regret exchanging my points to this food processor... I chose Oster over another brand because I remember mom buying a lot of Oster stuff, and in my mind the brand was a good one.
Date published: 2016-10-17
Rated

1

out of

5
by
Stevep
from
Terrible quality
shortly after i bought my Oster food processor Model 3322, the latching mechanism on the top lid broke so i had to jury-rig it to make it work. The covers on the 3 buttons on the base wore off a few months ago so i have to fiddle with the buttons to make it operate. Now the third strike - the bowl is cracked & now unusable. Going online, i find that i can't replace the bowl. I will be tossing this whole item & find a better manufacturer. To add insult to injury, I dialled the phone number to talk to someone & 3 times after going thru the options, i get an voice message that call volumes are too high & the calls were disconnected. Also, the quality of the recorded messages were garbled. Sure not impressed with Oster!!!
Date published: 2017-02-27
Rated

1

out of

5
by
Melissa546
from
Another unsatisfied customer
My boyfriend bought me this food processor and initially I really liked it until I poured a batch of soup in it to blend. The plastic cracked and the handle came of making it unoperable. I replaced the bowl and just used it for the third time and the plastic handle broke again. I feel like it is such a waste to throw it out and buy another one but I cannot even order the replacement part now and I would like to be able to use my processor when I need it.
Date published: 2018-07-12
Rated

4

out of

5
by
Salmo
from
Great service !
Ours is still under warranty, needed a replacement bowl , called customer service and after giving them all the purchase info & model #, the lady asked for our home address and said she would send us a complete unit ASAP (since the bowls are not in stock) as well as a confirmation email which we've not seen yet...
Date published: 2016-05-27
Rated

1

out of

5
by
sansbowl
from
Broken Bowl
I hate to be another customer complaining about the same thing but this expensive food processor's bowl snapped on me after using it only a few times. I came online to replace it only to find the bowl isn't available. I have the base unit but it won't lock or function without the bowl.
Date published: 2016-05-11