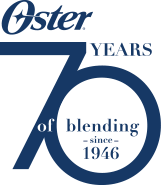 CELEBRATING 70 YEARS OF BLENDING EXCELLENCE
---
Experience the best years of blending with the Osterizer® 70th Anniversary Edition Beehive Blender only available for a limited time!
$14999
$12999
FREE
WITH PURCHASE of the Oster® 70th Anniversary EDITION Blender
Osterizer® 70th Anniversary Cookbook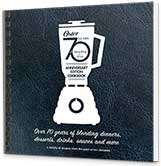 The Kit-Cat Classic Clock
The iconic clock with a swinging tail, rolling eyes and contagious smile.
Ingredients
1 cup water
1 lb beef (no sinews)
½ teaspoon of salt
1 whole black pepper
1 cup of lettuce leaves, packed tight
1 small onion
2 small stalks celery and leaves
Beet tops of 1 young beet
½ cup tomatoes
½ teaspoon curry powder
Directions
Cut beef into 1 inch squares
Blend a few pieces at a time, gradually feeding onion into glass container while blending beef
As you are blending the beef it will be necessary to remove the blended portion and then proceed as before
Sauté this in 2 tablespoons of butter or shortening
Blend the remaining ingredients
Combine and bring to a rolling boil
Steep until cool
Reheat to eating temperature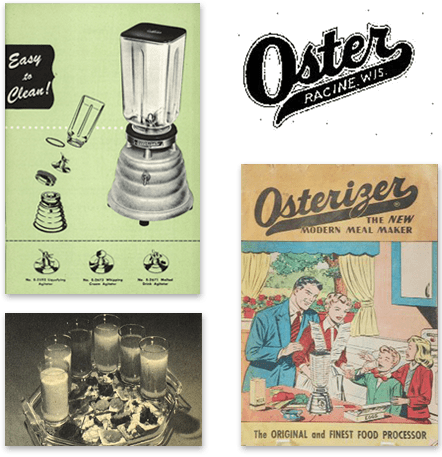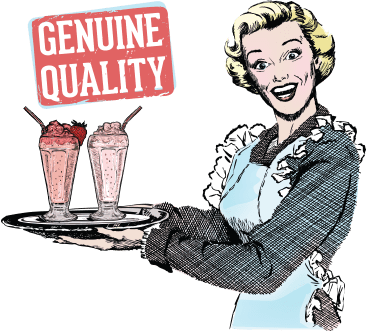 John Oster Sr. founded the John Oster Manufacturing Company in 1924 in his garage located in Racine, Wisconsin, USA. The first products brought to market were manually driven hair clippers which became motor driven a few years later. The company then diversified and created it's first "Osterizer" blenders in 1946 and haven't stopped blending since!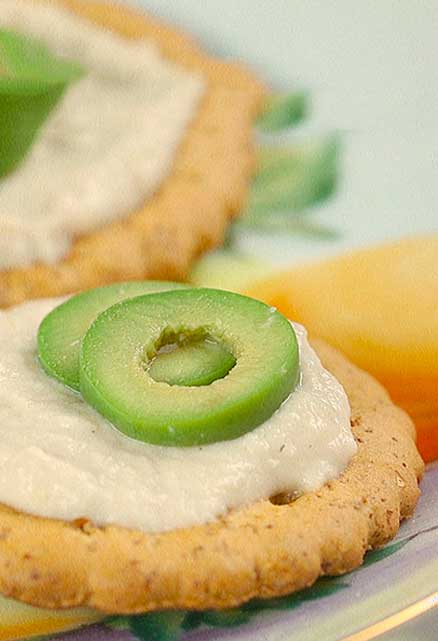 Ingredients
1 cup cooked chicken, cubes
1 cup cooked ham, cubed
½ cup green olives, pitted
½ cup mayonnaise
Directions
Put mayonnaise into the glass container with one half the olives, one half the chicken and half the ham
Cover, and mix at HI speed for 30 seconds
With the blender running, add the remaining ingredients through the opening in cover
Continue processing until smooth
If the ingredients do not feed down the processing blades, stop and push the contents down to the blades with a rubber spatula
Serve on crackers or rounds of toast
Yield: about 1½ cups
1950s
DID YOU KNOW
Gelatin was made in a variety of interesting flavours and often used to create molded salads. Popular flavours of this era included mixed vegetables,
celery and
seasoned
tomatoes.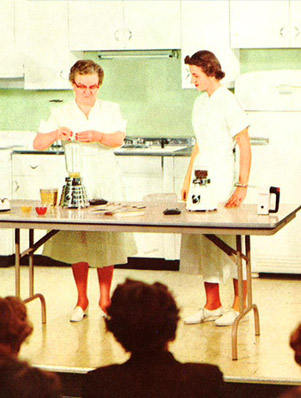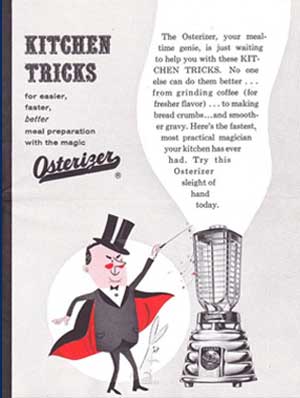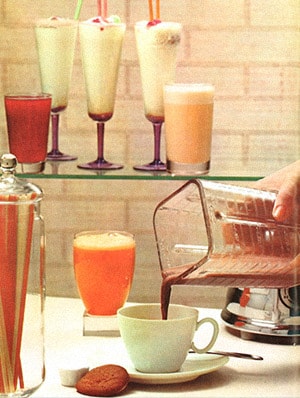 Ingredients
2 cans shrimp
1 2-ounce jar pimientos, drained
2 hard-cooked eggs
1 cup celery pieces
1 package lemon gelatin
½ cup boiling water
½ cup light cream
½ cup light mayonnaise
1 thin slice onion
1 3-ounce jar pimiento cheese
1 teaspoon salt
Directions
Blender-chop shrimp, pimientos, eggs, and celery separately in the blender container
Place in bowl
Put gelatin into the blender container and add boiling water
Cover and process at STIR until dissolved
Add remaining ingredients and process at MIX until smooth
Pour over mixture in bowl and mix well
Pour into well-greased 1-quart mold and chill thoroughly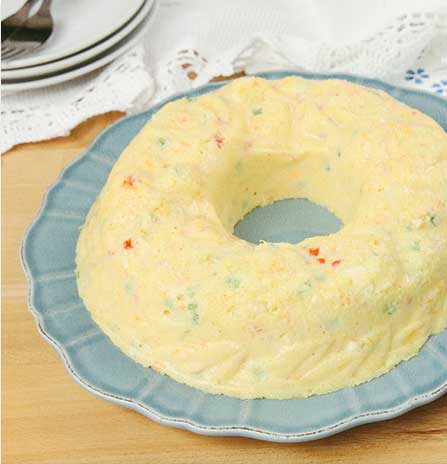 1960s
DID YOU KNOW
Marilyn Monroe had owned an Osterizer® blender similar to the one shown here. It was believed to be the only appliance she kept out on her kitchen counter.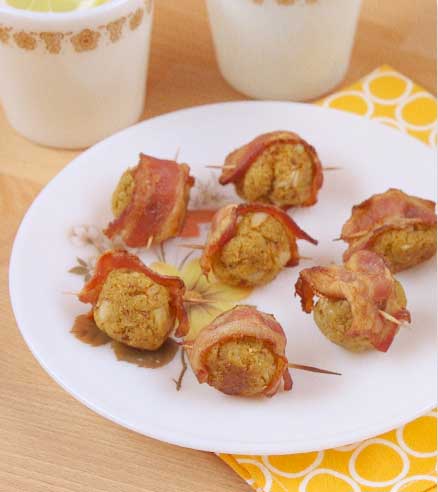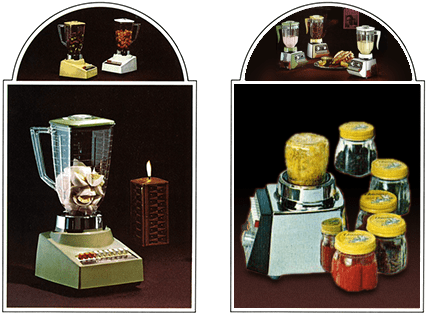 Ingredients
10 slices of bacon, cut in half
½ cup fine dry bread crumbs
1 7½-ounce can crabmeat, drained and flaked
¼ cup parsley sprigs
1 egg
2 tablespoons tomato sauce
1 tablespoon lemon juice
¼ teaspoon salt
¼ teaspoon Worcestershire sauce
1/8 teaspoon pepper
Directions
Partially cook bacon, but do not brown
Drain on absorbent paper and set aside
Blend dry bread into crumbs
Empty into measuring cup and repeat until ½ cup of crumbs is obtained
Mix crumbs and crabmeat in mixing bowl
Put remaining ingredients into Mini Blend container and process at STIR until mixed
Mix well with crumbs and crabmeat
Form one tablespoon of mixture into a ball, wrap with ½ slice bacon and secure with wooden pick
Place on broiler rack and broil about 5 inches from heat for 10 to 12 minutes, turning several times to brown rolls evenly
Yield: 20 to 24 rolls
1,306
Blenders!
1970s
FUN FACTS
The CN Tower in Toronto, Ontario, Canada was completed in 1976.
It takes about 1,306 Oster® blenders stacked on top each other to reach
the top of the CN Tower.
Ingredients
2 cups (500 ml) boiling water
2 packages (3-ounces or 85 g. each) raspberry-flavoured gelatin
1½ cups (375 ml) ginger ale
¼ cup (50 ml) walnuts
1 large apple, cut in pieces
1 stalk celery, cut in pieces
Directions
Add boiling water to gelatin and stir until gelatin is dissolved
Add ginger ale and chill until slightly congealed
Put walnuts into blender container
Cover and process 2 cycles of CHOP
Empty container and put apples and celery into blender container
Cover with cold water and process 2 cycles at MIX
Pour into colander and drain
Fold nuts, celery and apples into slightly congealed gelatin mixture
Pour into a lightly oiled 6½-cup (1½ litre) mold
Chill until firm
Unmold and garnish with lettuce leaves and fresh fruit
Yield: 8 servings
Ingredients
1½ pounds (750 g) fresh broccoli, cut in bite-size pieces
1 small onion, quartered
½ cup (125 ml) green stuffed olives
4 hard-cooked eggs, quartered
½ cup (125 ml) mayonnaise
Directions
Put broccoli into large bowl
Put onions and olives into Osterizer® blender container
Cover and process 2-3 cycles at CHOP or until finely chopped
Add to broccoli
Put 2 eggs in blender container
Cover and process 2 cycles at STIR
Empty into bowl with broccoli and repeat with remaining eggs
Combine all ingredients and chill
Yield: 6 servings
1990s FUN FACTS
In 1997, the Confederation Bridge located between New Brunswick and Prince Edward Island opened to traffic and is the world's longest bridge that crosses ice-covered water.

The bridge is 12.9 kilometers long and it would take about 95,556 Oster® blenders side by side to make up this distance.
Ingredients
Have butcher French cut 2 racks of spring lamb, about 7 chops each
1 large onion slice into circles
Rub Mixture
4 cloves of garlic
4 large fresh basil leaves
¼ cup parsley
¼ teaspoon each of red, white and black pepper
Directions
Place all ingredients for rub mixture in Oster® food processor and whirl for a few seconds
Lay rack on Oster® toaster oven roasting rack with bones facing each other
Push racks together as close as they will go
Rub the mixture all over the lamb
Toss onion with remaining rub mixture and place on rack between lamb racks
Roast at 350° for 15 minutes a pound or until quick read thermometer reads 130° for rare
Servings: 6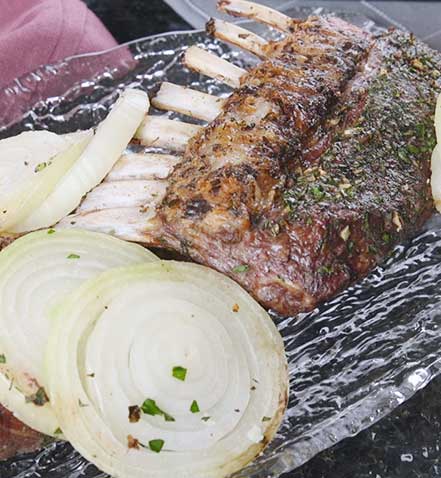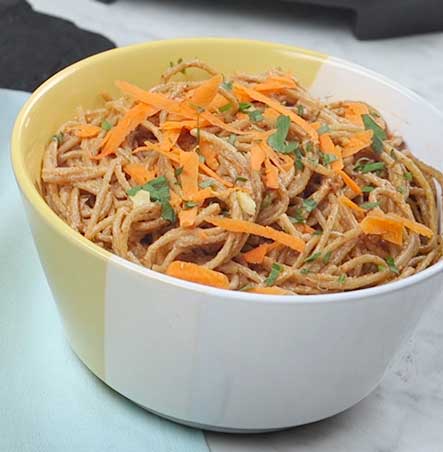 Ingredients
¾ cup creamy peanut butter
½ cup rice vinegar
¼ cup reduced-sodium soy sauce
¼ cup water
2 tablespoons coarsely chopped fresh ginger
2 tablespoons honey or agave nectar
1 tablespoon sesame oil
¼ to ½ teaspoon crushed red pepper flakes
1 medium garlic clove, sliced
Whole-grain spaghetti, cooked, rinsed in cold water and drained (12 ounces uncooked)
2 medium carrots, shredded (1 cup shredded)
½ cup chopped fresh cilantro
Directions
Place the first nine ingredients in Oster® Versa® Blender; blend on HI until smooth
Place cooled spaghetti in a large bowl. Add dressing and toss to coat; top with carrots and cilantro before serving
Yield: About 6 cups (6 servings)
Recipe developed for Oster® Versa® Performance Blenders
2010s
DID YOU KNOW
In the 1940s milkshakes were the popular
drink to blend.
In this decade, green smoothies are what everyone's slurping.

CELEBRATE
70 YEARS OF BLENDING
---
The 70th Anniversary Edition Beehive Blender with a FREE Osterizer® 70th Anniversary Cookbook & a Kit-Cat Classic Clock.
$14999
$12999