Images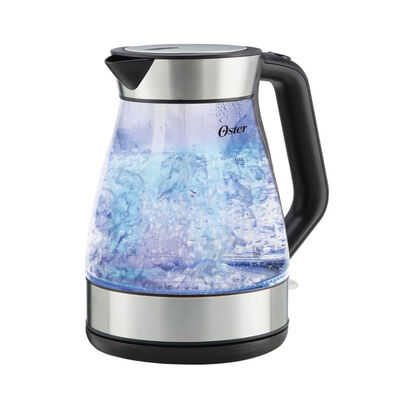 Oster Glass Kettle, 1.7-L
Details
https://www.oster.ca/en_CA/oster-canada-site-catalog/oster-glass-kettle-1.7-l/BVSTKT624033.html
Oster
https://www.oster.ca/on/demandware.static/-/Sites-master-catalog/default/dw834ed04d/images/Oster/ca-oster/BVSTKT624033_Aug_1.jpg
Additional Information
Add some illumination to your kitchen with the Oster® Glass Kettle that adds just as much function as it does style, comfortable black handle, and stainless steel base.
Oster Glass Kettle is perfect for making your favourite cup of tea
Features a blue light that illuminates the glass chamber and cordless swivel base
Capacity: 1.7 L (0.4 US gal)
Oster Glass Kettle, 1.7-L
is rated out of
5
by
30
.
Rated

5

out of

5
by
Highviewgb
from
Best Kettle I've ever owned!
I am shocked at all the negative reviews on this kettle, I have had no problem with mine at all and I love it!! In fact, I am trying to buy one for my son and that's how I came across this website. My kettle is 2 years old and it is used 2 - 3 times per day, I take care of it. I don't boil tea in it and I boil a lemon in it (sliced in half), once a month to clean the interior. I would not hesitate to recommend this kettle, or to buy it again.
Date published: 2022-09-29
Rated

1

out of

5
by
AllyM
from
Do not purchase
Unfortunately the filter is such poor quality that it tore/disintegrated after several months. Besides the fact this shouldn't happen (essentially you just rinse it with water to clean), Oster does not offer the filter as a replacement part. Extremely disappointing, especially since I contacted Oster and they did not offer any support. Will not purchase Oster again.
Date published: 2021-01-24
Rated

3

out of

5
by
Nicco
from
Disappointed
Bought this at Canadian Tire months but now I'm very disappointed in the product. It worked great and still is, but the filter was broken in a matter of months, but I was like no worries I'll just purchase a filter. Not as easy as that. I cannot find a filter for this kettle ANYWHERE, not at Oster, not Amazon nowhere. I am so upset, this cost $80. How could they not have a filter. Please Oster fix this asap. Other than the filter I have no other complaints.
Date published: 2021-10-13
Rated

1

out of

5
by
westielove
from
Dissapointed
Bought this kettle, 9 months later, filter ripped. Was told by Oster, that they don't have replacement filters. After getting bits in my tea, I started filtering the water through a coffee filter. Not what you expect from an $80 kettle. I also have to clean it regularly which has now affected the base.
Date published: 2020-11-08
Rated

5

out of

5
by
KettleLove24
from
Great kettle
What is happening to all your filters?? I have had mine for 2 years and the filter is fine. Like, looks new fine. I don't boil tea in my kettle though.. as that to me seems odd, water goes in kettle - tea leaves in the mug..
Date published: 2021-05-07
Rated

1

out of

5
by
DEMM
from
Rusted in 8mo
I trust Oster products, but this one failed and I now don't want to buy more of their products. The filter broke after 3mo and can't find a replacement, but I can do without. The big issue is the rust it has developed. I can't use this anymore and it's not a cheap kettle!
Date published: 2021-10-22
Rated

3

out of

5
by
Tj Mac
from
A real work-horse
We've worked our Oster Glass Kettle *hard* (as in 3 yrs of boiling at least 6 times a day!) and it's still going strong but the plastic around the spout and lid are beginning to deteriorate and flake off into the water, so it's time to replace it. I would buy it again in a heartbeat if you change out that plastic. There should be a glass or SS spout to appease your target market. Otherwise, a solid, hardworking appliance.
Date published: 2022-06-10
Rated

1

out of

5
by
Teddyk
from
Filter falls apart
Kettle works fine but filter in the spout rips after 3 months of use. They make you waste so much time trying to find replacement filter not worth buying another oster
Date published: 2021-01-06