Images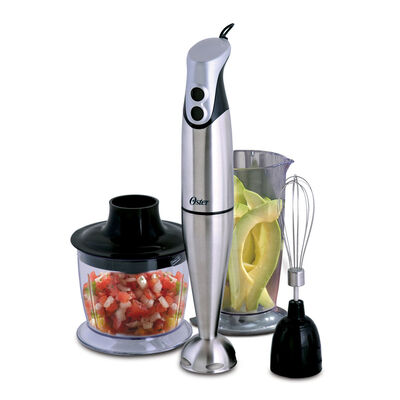 Oster® Stainless Steel Hand Blender with Cup & Chopper
Details
https://www.oster.ca/en_CA/kitchen-tools/oster-stainless-steel-hand-blender-with-cup-and-chopper/FPSTHBSSA2-33A.html
Oster
FPSTHBSSA2-33A
https://www.oster.ca/on/demandware.static/-/Sites-master-catalog/default/dw9f49e17c/images/highres/FPSTHBSSA2-33A-1.jpg
Create perfectly blended soups, sauces, dressings and more with the Oster® Hand Blender. Thoroughly mixes to a smooth consistency.
Product Specs:
Dimensions: H:7.5" W:6.5" L: 6.5"
Watts: 250W
See More...
Additional Information
The Oster® Hand Blender is a must-have appliance in every kitchen. This Stainless Steel Blender with chopper and cup features a powerful 200-watt motor that ensures superior performance. Apart from blending, you can also chop vegetables using the chopper attachment that comes along with this stainless steel hand blender. The stainless-steel S-blade of this Hand Blender is of high quality, ensuring a durable performance. The blending rod is detachable, so that you will find it easy to clean. Includes blending/measuring cup and dual purpose lid. With the Oster® brand, you can cook with passion and serve with pleasure.
250 watts of power
2 speed settings for blending versatility
Stainless Steel S-Blade for durability and detachable blending rod for easy cleaning
Includes chopper attachment for large tasks and measuring cup
Oster® Stainless Steel Hand Blender with Cup & Chopper
is rated out of
5
by
27
.
Rated

1

out of

5
by
abababababa12345
from
Fragile and Unrepairable
My house bought this blender a bit over a year ago and, like many other reviewers here, the blender has destroyed itself. Within a month the plastic clips that are supposed to hold the blade to the motor section had snapped, meaning we had to hold the two sections together manually. And holding it together manually is never entirely perfect, so over the following months the plastic junction joining the motor to the blade has stripped itself. I contacted Oster and they responded quickly enough, but only offered to submit it for a warranty claim. I don't know yet what involves a warranty claim but I suspect it means replacement, not repair; I want to repair it, not have it thrown into some landfill somewhere. Anyway the warranty is only a year long and I am over that, which is not a very good expected life-span for an appliance.
Date published: 2021-10-17
Rated

2

out of

5
by
Pauline66
from
Not durable
I bought this product 2 years ago, do not use it alot and the motor attached stripped, trying to find a replacement or have Oster replace unit.
Date published: 2021-03-20
Rated

1

out of

5
by
LoriP
from
broke first time using it
I received this as a Christmas gift, and the very first time I attempted to use the chopper, it broke.
Date published: 2018-01-12
Rated

3

out of

5
by
Sisi
from
Works good, asides from the chopper bowl and blade
Used the chopper once for onions and it worked well. Tried using the chopper last week for the second time, to puree sweet potatoes, seems like the blade is not chopping anything anymore. It is only capable of rotating food around. Huh! What is wrong with this chopper? Poor quality.
Date published: 2018-10-18
Rated

1

out of

5
by
The extravagant one
from
Looks good, but it ain't!
I was very pleased to find your hand blender in London Drugs. BUT when I tried to put it together tonight, most of the lower items WOULD NOT fit the top piece! THE ONLY ONE THAT DID WAS THE CHOPPER.
Date published: 2020-05-29
Rated

1

out of

5
by
ekim
from
Blender has no longevity
Love this blender but as with ALL the other reviews the bottom part has stripped so it wont attach to top. For $70.00 you would think it would be better quality. Last time for Oster
Date published: 2020-07-07
Rated

1

out of

5
by
Jfrank
from
Stainless steel accessory broken
6 month of use and the stick holder is brake and I want to replace only this accessory and it is not sold separately
Date published: 2021-01-23
Rated

4

out of

5
by
Hutch
from
Fabulous inexpensive little blender
I bought this hand blender a couple of years ago and since then I've used it frequently to blend soups, sauces, smoothies, etc. Like my other Oster products, this one has held up beautifully. Easy to use and I really like the extra attachments. Taking off one star because the blender is very heavy for its size. I know motors carry some weight, but this blender is much heavier than my previous one, and I feel it in my wrist after using it for a while. Recommended!
Date published: 2019-11-26
Rated

1

out of

5
by
Rigray
from
Poor connection with base and accessory
Poor connection with base and accessory. Unit falls off
Date published: 2021-03-07
Rated

3

out of

5
by
JazMac
from
Poor Quality
This product is great however, after using the bowl and blade about 3 times it broke (the part the connect to the metal stand is loose and will not allow the blade in the bowl to spin). This seems to be a manufacturing defect since the item was cared for and only hand washed. Disappointed that this happened only after a few uses. Also, it is very hard to get in touch with customer service as the number given for Canada is only in French.
Date published: 2020-12-10
Rated

4

out of

5
by
bakedtigger
from
Top off
I bought about 6 months ago and I don't have the receipt, but the chopper lid , the inside gear doesn't turn the blade anymore , I'm trying to find a replacement top and so far can't find anything, the last thing I want to do is buy a whole complete blender and if that's the case I'll look for one that I can order parts for ,sorry but I hear the yelling from the wife and that's not good since she does alot of baking .
Date published: 2021-11-14
Rated

3

out of

5
by
coccoon
from
Broken
I've owned my hand blender for about 1.5 years and have been happy with it. It was a gift. Unfortunately the hand held part is stripped and I can't use it anymore. I have tried to contact the company using the telephone # on the website and although the hours are posted and I have honoured the hours.. they are closed. Not too happy with the product or the company at this point. Frustrated
Date published: 2020-04-07
Rated

2

out of

5
by
JRB29
from
Great, but poor quality attachments….
When new this blender worked great, however the food processor attachment and whisk attachments are quite flimsy and have since broke. It looks like there is no way to purchase these attachments separately so we will have to buy something new despite the motor working well.
Date published: 2021-10-03
Rated

3

out of

5
by
LeslieC
from
Can't we buy replacement parts????
I received this for Mother's Day 2019, my daughter was using it for whipping egg whites, the base with the whisk cracked. Now I can't use the regular base either, just the chopper. Would like to have someone answer a phone to let me know where to buy a new base.
Date published: 2020-06-25
Rated

2

out of

5
by
RachelM
from
Replacement Please
I have Oster QuadBlade, I loved this product, it makes my life a lot easier. However, the Hand Blender is took of and is now not attached to the engine. I tried to put it in place and heard a noise and smoke as if it had burned. Can I get a replacement part?
Date published: 2021-04-23
Rated

3

out of

5
by
Mags
from
blender for mixing sauces.
I bought it several years ago, and although the blender works like a charm, the chopper has never worked. Upon taking it apart the gears inside are stripped. How do I order a new chopper part. I still like it a lot, just want a new chopper part.
Date published: 2017-05-30
Rated

5

out of

5
by
ttea
from
Works Beautifully
I use this at my Mom's and it is great for my shakes. Chopping veggies for soup, then blending the soup. The stainless steel makes for a really easy clean up.
Date published: 2016-12-15
Rated

2

out of

5
by
Hartlepool 57
from
Just bought today
How does the whisk attach to the black dome shaped piece as shown in the photograph top left? Tried to insert it, it just falls out.
Date published: 2021-05-24
Rated

4

out of

5
by
alltomdi
from
Great product except for lid to chopper
The lid to chopper leaks when it is washed in water
Date published: 2017-01-14