Images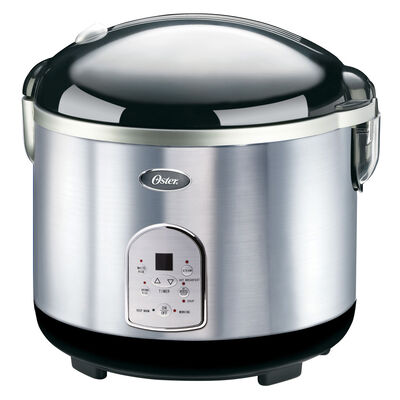 Oster® 20 Cup Digital Rice Cooker
Details
https://www.oster.ca/en_CA/kitchen-appliances/oster-20-cup-digital-rice-cooker/3071-33.html
Oster
3071-33
https://www.oster.ca/on/demandware.static/-/Sites-master-catalog/default/dwffe2c3f5/images/highres/3071-33-1.jpg
Cook rice to the perfect consistency every time with the Oster® 20-Cup Digital Rice Cooker.
Product Specs:
Dimensions: 11"L x 11"W x 11"H
Cord length: 29"
Watts: 700W
See More...
Additional Information
Make rice cooked to perfection. Whether rice is the shining star of your meal or an accompaniment to scampi or stir-fry, you can serve it with confidence knowing it's cooked to the perfect consistency. This digital rice cooker is designed with programmable settings for white rice, brown rice, steam, breakfast and soup. With the Oster® brand, you can cook with passion and serve with pleasure.
20-cup capacity (cooked rice)
Removable, non-stick inner pot
Delay Timer
Cool-touch locking lid
Stainless steel finish
Includes steaming tray, rice paddle and measuring cup
Oster® 20 Cup Digital Rice Cooker
is rated out of
5
by
27
.
Rated

3

out of

5
by
lesh4537
from
Cooks rice
I wanted a rice cooker after borrowing a friends. I got this one as a gift. At first glance I was excited as it has steamer option as well. First time i cooked rice it too forever. A friends was very quick. This one took double time. Onto Christmas dinner: excited to use this for the first time. I put the vegetables in and waited and waited. I finally decided enough and opened the lid to discover my asparagus was mush. The cook time that was stated for it apparently was too long. Overall, I honestly would not recommend this to anyone unless they have time to spare to wait for the rice to cook. I have yet to use it for steaming again after what happened so that option is out!
Date published: 2015-02-05
Rated

4

out of

5
by
Richs52
from
So easy to make rice now!
I received this rice cooker for free if I wrote a review. I make rice every week for my dog as a base for his dog food. I've been making it that way for 12 years. I've always made it the classic way in a pot of boiling water and waited 45 minutes. This rice cooker makes it very easy for me to just dump The ingredients and press a button and walk away. I also like the fact that I can set a timer for it to come on a little while before I get home from work. The rice came out a very good consistency and I will continue to use it. Cleanup was a breeze as the liner comes out and can just go in the dishwasher. [This review was collected as part of a promotion.]
Date published: 2016-08-23
Rated

4

out of

5
by
amplds121
from
Great features, some don't work great.
I love the available features on this product and the ease of use with just pushing a button for different settings. I love that the lid seals because my other rice cooker just has a drop in lid and so when the water is boiling it escapes all over the counter. With this, everything is contained. However, when I went to cook brown rice on the brown rice setting it didn't seem to cook my rice all the way through. It was still very crunchy and hard as I ate it. I loved the steamed vegetable option though, and my baby carrots came out very soft. They did taste a little like the interior of the pot, but that's probably because it was brand new. [This review was collected as part of a promotion.]
Date published: 2016-08-17
Rated

4

out of

5
by
rickybobby
from
Nice product that is easy and simple to use
I have wanted a digital rice cooker for quite some time after I borrowed my one of my friends. I like to do meal preps at the beginning of the week and I wanted a rice cooker that was easy to use, functional, as well as one that wasn't difficult to clean. Although I did have some slight difficulty when I was trying to steam some vegetables for the week. Although, it didn't take long to figure out the right way to steam the vegetables and in the instruction manual it provides you with proper cooking times. Overall, it's a good product for the price and I would recommend it to any of my friends. I did receive this product for free to test and review. I have thoroughly enjoyed the oyster 20 cup rice cooker.
Date published: 2016-08-26
Rated

5

out of

5
by
sputnick
from
works well
I made the mistake of buying it and and not opening as I had thought to give it as a Christmas gift. When mine broke in the meanwhile I decided to use it only to find someone had switched the basket and instructions inside, obviously it had been a return and substitutes put inside to replace the missing items, the basket does not fit and the instructions are for a completely different steamer, as I had had it for the better part of the year before opening it, there was no hope in returning it for exchange, so just beware when you buy a sale item check the insides within a day or two. Now I have to find instructions to match the model. Other than that the old one I had worked really well and I was well satisfied..
Date published: 2018-12-31
Rated

5

out of

5
by
DaveM
from
Love this cooker!
The Oster 3071 rice cooker is really a good cooker. I've bought cheaper cookers in the past and regret not getting this one. It has several different settings which come in handy. I cook different varieties of rice and there are settings for them, as well as veggies and breakfast cereals. I like how the lid doesn't come off. I've dropped the lids off of my past cheaper cookers and broke them. There is also a condensation cup that keeps the countertop from getting messy. My past models always got the countertops messy. I received this cooker to review for free, but after checking on the price I would have saved money buying this one compared to the two I broke the lids on. [This review was collected as part of a promotion.]
Date published: 2016-08-17
Rated

5

out of

5
by
Knight4cole
from
Wonderful
Very happy with the purchase ...love Oster products...durable and reliable...thanks
Date published: 2017-01-14
Rated

5

out of

5
by
Lilbug13
from
Easy to use and looks great
I received this rice cooker to review. It looks great in the counter and cooks rice well. We have been pleased with the outcome. No crunchy rice, all cooked through just as we wanted! The digital settings make it easy to use and the 20 cup capacity makes cooking large or small amounts an easy task. Cleaning is easy and while my first intention was to put it in the cabinet, the aesthetics are so good that leaving it on the counter is what I have done. [This review was collected as part of a promotion.]
Date published: 2016-08-21