Oster® 1000 Watt JūsSimple™ 5-Speed Easy Juice Extractor
Details
https://www.oster.ca/en_CA/dining-and-entertaining/treats/oster-1000-watt-j%C5%ABssimple-5-speed-easy-juice-extractor/FPSTJE9020-033.html
Oster
FPSTJE9020-033
https://www.oster.ca/on/demandware.static/-/Sites-master-catalog/default/dw53c03403/images/highres/FPSTJE9020-033-1.jpg
Product Actions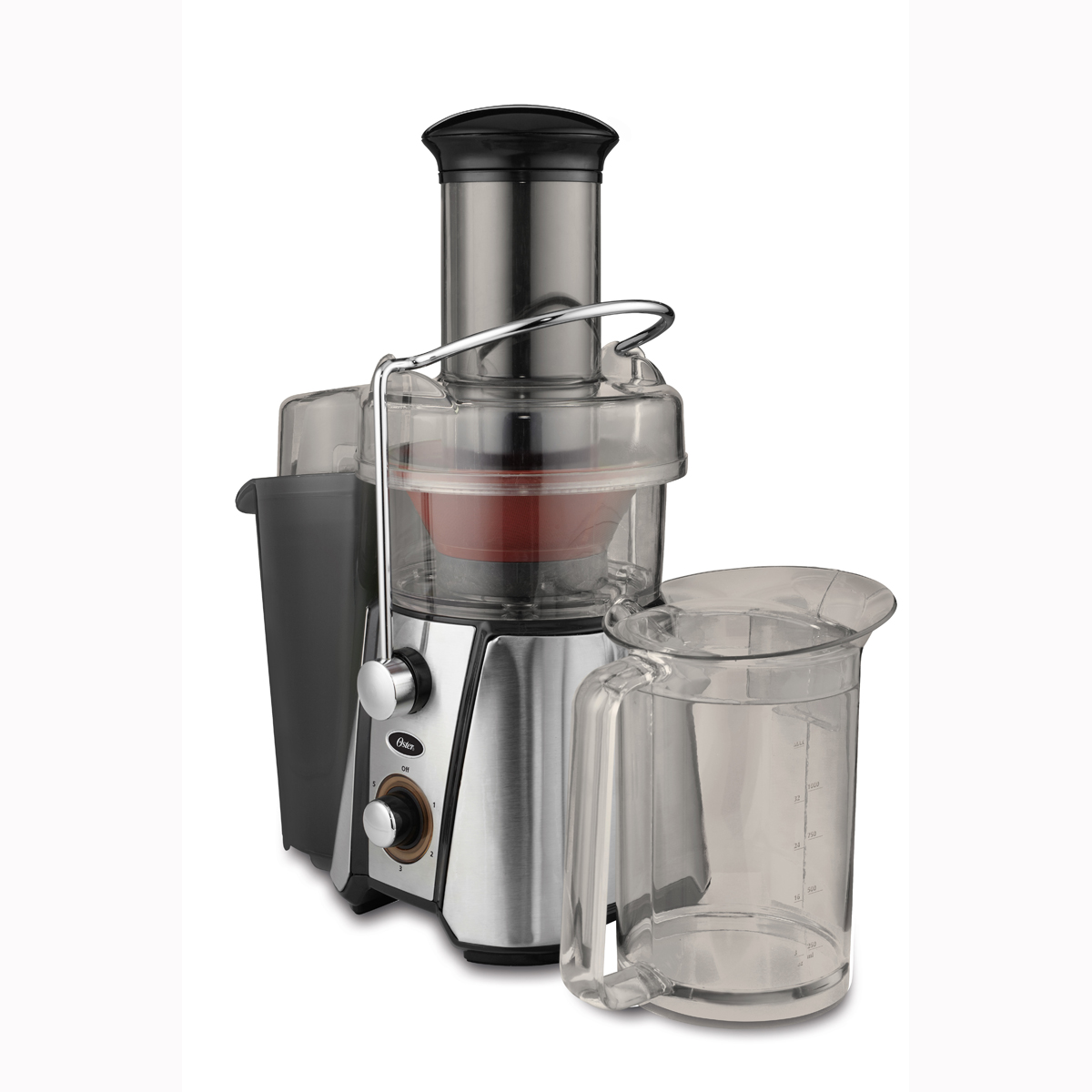 Oster® 1000 Watt JūsSimple™ 5-Speed Easy Juice Extractor
- See final price in cart
Promotions
Fresh juicing is made easy with less cleaning and less hassle! Enjoy delicious, nutritious juices made your way with the Oster® JūsSimple™ Juicer.
Product Specs:
Dimensions: H 16" X W 12" X D 7 " Weight 8.4 lbs.
See More...
Additional Information

Easy does it with the Oster® JūsSimple™ Juicer that's easy to use and easy to clean. You can squeeze more nutrients, antioxidants and immune boosters into your glass and more time into your day. This juicer uses 1000 watts of power and 5 speed settings to extract the most of soft and hard fruits and vegetables in no time. It's also designed with a wide chute so even large-sized fruits and vegetables can be easily juiced. You can customize your juice mixes with all the ingredients you want and enjoy. After you're done, clean up goes quickly too. The convenient Rinse 'n Ready™ filter has a special mesh coating that cuts cleaning time down with less scrubbing. Start juicing with the Oster® JūsSimple™ Juicer and discover how easy, and delicious, it can be to enjoy a healthier diet and lifestyle.
1000 watts of juicing power
Easy clean Rinse 'n Ready™ filter
5 speed settings to easily juice a variety of fruit and vegetables
Extra-wide feed chute fits whole fruits and vegetables
Extra-large capacity pulp collector
Includes 32 oz juice pitcher with froth separator
Oster® 1000 Watt JūsSimple™ 5-Speed Easy Juice Extractor
is rated out of
5
by
8
.
Rated

4

out of

5
by
AVTAR SINGH DHAMIJA
from
Jester 1000
I bought it few weeks ago We are happy but if it can improved more will be great For example: it does extract 100 % juices from fruits Power lead is too short - if you increase the length of lead 10"-12" will be better and become easy to operate & orient juicer in limited spaces in kitchen Fruit feed hole or top pipe diameter is too small if diameter of fruit feed holecan be increased by 1/4" to 1/2" will help the user but you have to see technical requirements or other limitations; If you can feature of inbuilt oranges peeler and extract juice will be great Avtar Singh Dhamija Canada
Date published: 2017-04-11
Rated

4

out of

5
by
Sammor
from
Works great but one thing I'm not happy about
It truly does a great job, not too loud, easy to clean etc however for some reason the rubber pads on the bottom are not non-marking and every time I moved it I would get black streaks on my white countertops that I would have to scrub off, it was almost as bad as magic marker. I therefore placed the juicer on a cutting board. Now my cutting board is ruined but better that than my countertops. I can't believe this was overlooked given the high quality of this juicer. I would like to think it's just a set of defective pads, otherwise I'm very happy with it. I would of gave it 5 stars
Date published: 2017-01-19
Rated

1

out of

5
by
Foreveraged
from
Poor Quality
I just pirchased this in July 2018 and went to use it, I plugged it in and heard ad snapping sound and now the juicer will not turn on.
Date published: 2018-07-09
Rated

5

out of

5
by
Asif
from
Excellent
Excellent! Yes, I mean what I write. Quality of juice produced, operation of machine, design, material used, mentaling, dismentalling of parts, washing and color...In all aspects this juicer is excellent. Very happy to buy such a nice machine in a nice price.
Date published: 2017-03-10
Rated

5

out of

5
by
vfjdragoon8
from
Nothing comes close to this product. Awesome!
A great product im so happy and pleased with it. Choosing to buy this is correct! I love it!
Date published: 2017-04-26
Rated

4

out of

5
by
sahnenase
from
good value for money!
quickly delivered, solid assembling, easy cleaning, good juice .
Date published: 2017-04-19
Rated

5

out of

5
by
Laly
from
Great product!
Like!!! Lots of power and easy to clean. Highly recommended...
Date published: 2015-10-26
Rated

4

out of

5
by
Ivy Eyre
from
Experiment, experiment
I purchased this juicer because my Oster juicer retains the pulp beside the basket and after 4 cups of juice, I need to take it apart, clean it, etc. before juicing more. When I first used it, I was disappointed. I juiced carrot, apple, ginger juice. I juiced the apple and ginger on setting #1 and carrots on setting #5. There was alot of pulp in the juice and I was thinking about returning it. Also, when I first saw the parts, I thought that the pulp would get stuck in the small crevices of the parts and thought that it would be hard to get into those small crevices. They also didn't give me any brushes to clean it with. So I put it aside until I decided to repackage it and return it. But i thought that I would give it one more chance before returning it. And I'm glad that I did! I decided to juice everything on setting #1 and I pushed everything slowly. Yes, it takes a little longer to juice compared to my older Oster juicer, BUT the basket is sooooo much easier to clean and my concern that the tiny crevices would be hard to clean was not true! It was very easy to rinse and the basket is a breeze to clean!!! I highly recommend this juicer, especially if you are juicing more than 4 cups of juice on a juicer that retains the pulp.
Date published: 2018-03-27