Images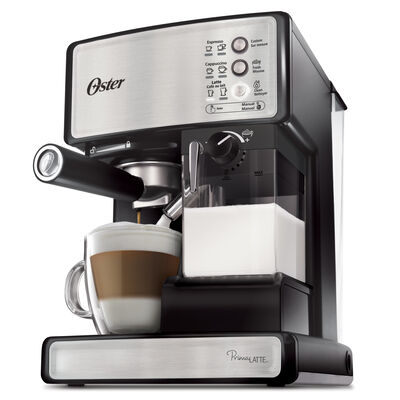 Oster® Prima Latte® 15-Bar Pump Espresso, Cappuccino & Latte Machine, Stainless Steel
Details
https://www.oster.ca/en_CA/coffee-and-kettles/coffee/oster-prima-latte-15-bar-pump-espresso-cappuccino-and-latte-machine-stainless-steel/BVSTEM6601SS-033.html
Oster
BVSTEM6601SS-033
https://www.oster.ca/on/demandware.static/-/Sites-master-catalog/default/dw7bd19cf7/images/highres/BVSTEM6601SS-033-1.jpg
Be your own Barista! Enjoy bold espressos, rich cappuccinos and decadent lattes in one simple touch with the Oster® Prima Latte® 15-bar pump espresso maker.
Product Specs:
Dimensions: Height:12.6:" x Width:8.86" x Depth:11.22"
Weight: 10.37 lbs.
Cord length: 26"
Watts: 1040W
See More...
Additional Information
Brew coffeehouse-style drinks just the way you like them right at home. In one simple touch, Oster® Prima Latte® brews espresso coffee with a 15-bar pump system and automatically froths milk for cappuccino and latte selections. You don't need Barista know-how to create custom coffee drinks like your favorite coffeehouse. Simply pick a single shot or double shot filter, select your grounds, fill milk reservoir, then choose your brew. A recipe book is included to help you create impressive coffee drinks, from espresso martinis to raspberry cappuccinos to choco-nutty lattes. Oster® Prima Latte® will save you a stop at the coffeehouse on busy weekday mornings, and save you time and money too!
Semi-automatic 3-in-1 espresso, cappuccino and latte maker
15 bar pump system brews rich-tasting espresso coffee
Trouble-free, automatic milk frother takes the guesswork out of frothing milk
One-touch control panel for drink selections
Easy-fill, removable water and milk reservoirs
Oster® Prima Latte® 15-Bar Pump Espresso, Cappuccino & Latte Machine, Stainless Steel
is rated out of
5
by
52
.
Rated

2

out of

5
by
Disappointing Lifespan
from
Works well, but won't last
Got this as a birthday present in mid 2015. As of mid 2019, the automatic water dispenser seemed to die; the pump would just keep running until the security shut off tripped (good feature, I guess); resulting in coffee water. I managed to keep using it by eyeballing how much water is needed and manually turning it off when appropriate. Still made good coffee at that point. ~3 months of this, water would just trickle, and it was time to take the thing apart. It looks like the problem is the flow meter; completely covered in rust (to think, I've been drinking what's been flowing through that). Fingers crossed that'll do it and that I can find one, but I don't think this machine will last.
Date published: 2019-12-21
Rated

1

out of

5
by
Wjms
from
Poor quality
After six months it can no longer froth milk, now it just puts out hot flat milk. I always cleaned after use I even took it apart and cleaned it's internal parts and still cannot froth.
Date published: 2017-10-27
Rated

5

out of

5
by
veronicam37
from
Love this coffee maker!!!
I bought my Prima Latte almost 4 years ago and have absolutely loved it!! I use it daily and have had almost no trouble with it. (just the normal maintenance of cleaning periodically. I rave about my Prima Latte to everyone, and often post on facebook about how much I love it. Sadly, today it seems to have stopped working correctly. I've tried cleaning it but it just isn't working anymore. I feel pretty sad about that, but honestly, it has lasted me almost 4 years!! I have no complaints, 4 years is a long time to have been supplying me with daily cappuccinos!! Thank you Oster!!
Date published: 2018-10-12
Rated

1

out of

5
by
Mhozer
from
Frother stops working
This machine worked great until warranty was up, 16 months of use and no longer pushes any milk out. It's been maintained and cleaned properly, as suggested. Very disappointed!!!! The nearest service Center is a 3 hour drive in other city, ridiculous.....
Date published: 2018-09-22
Rated

1

out of

5
by
rhiham42
from
Disappointed
At first we loved this coffee maker. It was so easy to use and made the best cappuccinos. It worked very well until about a year after we purchased it. The manual espresso and the frothed milk work fine separately. But if you press the cappuccino or latte buttons it will only pump out espresso and no frothed milk. When you press the single or double espresso button you need to manually stop it or it will continue pouring out espresso.
Date published: 2019-08-11
Rated

1

out of

5
by
Michal6
from
Lasted 3 months
Was good until the milk frother completely stopped working. We only used it 2-3 times per week as well. Tried cleaning it thoroughly to no success. For the price, I would expect it to last much longer....
Date published: 2017-12-20
Rated

4

out of

5
by
Annab
from
I am changing my review
I boight one for my husband. After a few weeks no more froth. Very disaapointed so i called oster. They were amaIng replaced my cappacino maker. It works perfectly Thank you
Date published: 2017-01-24
Rated

1

out of

5
by
Airframe
from
Terrible instructions.
After a number of times trying to prime the machine it always failed. Read the instructions a number of time with the same result. Checked online for trouble shooting with no results. Just happen to read the online instructions of priming and there was a instruction to remove the red plug at the bottom of the water reservoir. Removed the redplug and the unit primed successfully. Very frustrating experience.
Date published: 2019-04-11
Rated

5

out of

5
by
Debbie n
from
Love it to death!
I got an oster prima latte machine for Christmas a couple years ago I its the best thing I ever received, I use it every day, I had a problem with the milk compartment not sucking up milk but figured out the seal wasn't tight enough so I just put a little bit of plummers tape around the tip of the rubber tube and wallah its perfect, but now today it won't turn on , can't figure out why so I'm hoping customer service can help. Hopefully replace it, if its not turning on its faulty and should be replaced Im hoping , other than that its been my faithful friend and couldn't live without it. I also love how it froths the milk for you , the others u have to do urself and my friends are jealous and say they should have got one like mine. Let's see what customer service says.
Date published: 2020-06-16
Rated

3

out of

5
by
DestyNova
from
Great but not last
Its my second one that i bought its work pretty fine but after a year milk dont work anymore on both try the replacement don't work
Date published: 2018-07-19
Rated

1

out of

5
by
Nan4
from
looks nice, but not working well
I have issue with machine and no one is responding.
Date published: 2019-11-26
Rated

4

out of

5
by
Robin Ria
from
Good product and works well.
We looked around gor a Latte etc maker and saw this unit, it was on sale so we purchased one.Took a little time to educate myself as to how it functions,but eventually got the hang of it.Lattes are great and by the time our toast is ready,push the two buttons and coffee also ready. I agree with the comment fro a fellow reviewer that the milk container is difficult to clean out, but using paper towel and long screwdriver it can be done.
Date published: 2020-04-17
Rated

5

out of

5
by
My Pride
from
:ove it..! easy to use....Great machine...
I actually bought 2 of these coffee machines...I live outside Calgary, Canada, Chestermere to be more specific.....I was in South America, (For two months) Chile in January-2017. While I was visiting my cousin outside Santiago he offers me a latte coffee and I was so impressed with the coffee that I decided to buy one for my self to have in my apartment in Chile. At home in Canada I have a Breville coffee maker, much larger in size but much more complicated to use......So within a month after I came back I decided to buy my second Oster Prima Latte and it is exactly the same machine I have in Chile, chrome finish and excellent quality. Thank you for creating a great product. Enrique and Karen Gonzales. NOTE: If I was to re-design the Prima Latte...I would add a small coffee grinder....even if you will have to increase to sale price by another $40.00
Date published: 2017-04-27
Rated

1

out of

5
by
No to oster
from
Very disappointed
Very disappointed. Bought my prima latter, oster like 3months ago and it stop working! Espresso not pouring and the milk is not coming out!
Date published: 2018-09-24
Rated

5

out of

5
by
coffee loer
from
best coffee machine ever
over the years I have purchased many coffee machines most were quite good but they always involved some work to get a perfect cup of cappuccino or latte ...now with this machine it's as easy as pressing a button for the exact quantities of milk and coffee to mix and obtain a perfect brew...also it is a lot more economical than the coffee machines that use capsules ....I couldn't be more happy with this purchase
Date published: 2018-03-17
Rated

4

out of

5
by
Hellen
from
Good
Have been using it for a month; good value for the price, we like it. Easy to use and makes good coffee, good milk froth. Cheap materials, more plastic, but u shouldn't expect more for this price range. The cleaning function doesn't clean well, though, u have to diassemble the milk frother and clean it well inside to avoid mold accumulation. But overall it is a great coffee machine for the price.
Date published: 2018-02-17
Rated

3

out of

5
by
trinalynnb
from
Great machine but doesn't last long
I've replaced mine 3 times in 5 years. Eventually the espresso stops coming out and all the lights flash. I clean periodically and I can often extend the life once this happens but eventually it gets to a point of replacement. I may have to start looking at another brand because I love my morning lattes but I don't want to have to keep replacing the unit every year or two.
Date published: 2019-04-22
Rated

2

out of

5
by
sw123
from
Filthy and Useless
I've had two problems with this machine as previous posters. I wish I had search more review before I purchased this machine. The first one was that it doesn't clean the milk dispenser. My husband had to unscrew it and soak it for a couple hours. It was gross with old milk that we thought was being cleaned out with routine cleaning. Now we keep the screws out and soak it every day. Things were good until the filter clogged earlier this week once and as we found out today once the filters clog the machine is useless. I called customer service today about replacements and was told to search Amazon. Amazon has replacement parts for pretty munch every brand except this one and none of the generic brands fit. I've had my machine for just a little over a year and now its basically junk. the value of this product is so terrible I would not recommend this product to anyone, which is too bad since it did make good lattes.
Date published: 2020-04-29
Rated

1

out of

5
by
Ilene
from
Disappointed after only one month!
I received this as a Christmas Gift and it worked great for the first month. I was super excited and enjoyed my Latte every day. Now all I get is milk pouring out of machine, it doesn't process the milk like it used to. I just contacted 1-800-667-8623 and apparently the machine is past warranty ( ??? I've had it for one month) and there are no replacement parts available
Date published: 2020-02-05
Rated

2

out of

5
by
DanielMat
from
Bonne machine, mais le filtre se bloque facilement
Incapable de trouver un filtre de rechange Après avoir investi une petite fortune en produit de détartrage, pas moyen de débloqué le filtre ou même d'en commander un nouveau. Au début, je l'adorais. Je l'ai même vanté auprès de mes amis. Mais j'ai ressorti du garde-robe ma vieille Saeco de 17 longue année et elle va toujours comme au premier jour.
Date published: 2020-03-10
Rated

4

out of

5
by
Jason the barista
from
1 cup filter does not work
Seems that the dimple that holds the 1 cup filter in the holder, is too small causing the filter to fall out when emptying grinds into compost can. Or maybe the wrong filter was packed in with my unit as the 1 cup filter has two dimples and the 2 cup filter only has one. The two cup filter works great. Otherwise really happy with this machine.
Date published: 2017-02-06
Rated

5

out of

5
by
Maximum
from
Easy to use! Cannot beat price!
I first saw this machine at Canadian Tire, and I thought I would give a try of this Espresso Machine. Latter I found a better price at the official website. This machine is easy to use, the cappuccino and latte functions are just press the button. The milk form is good, but not too much. In a word, this machine is good and easy to use!
Date published: 2017-10-12
Rated

3

out of

5
by
Gryphon
from
Good but doesn't last
Bought this item several years ago. While initially good, milk and coffee pours became erratic. After awhile, lots of steam but little milk. Removed and cleaned milk container top section repeatedly but to no avail. Now I run it all manually but sadly no-longer working as advertised. Will not buy another.
Date published: 2020-02-08
Rated

5

out of

5
by
Mario T
from
Best little Espresso machine
I bought this over a year ago for our condo in Florida, still work perfectly, never had problem. At home in Canada we have a Delonghi fully automatic machine that cost $1200, My wife want me to buy a second Oster prima Latte to replace our Delonghi. This is the easiest machine to do a latte or capucino
Date published: 2017-12-28
Rated

5

out of

5
by
Scotco
from
Simple to use and great value
We have had this little machine for a while now (3-4 years). When the mood strikes us we probably use it everyday for weeks. No issues so far. Works great with very simple options. Takes up little space. I've seen more pricey and complicated options out there but have only tried this one so far.
Date published: 2020-06-15
Rated

4

out of

5
by
Ckelly
from
Great, so far!
3 days in and we think it's great! Our daughter, who has worked as a barista, coached us a bit on the amount of coffee and amount of tamping, but thinks it's a good one-touch machine. It makes Hot cappuccinos and quick espressos. We will heed the advise to fill the water reservoir with a pitcher.
Date published: 2016-12-28
Rated

1

out of

5
by
bill438
from
6 month Review
Bought 6 months ago. Used scale/depost cleaner as suggested. For the last month it does not have any adjustment of the milk in cappucino or latte. Often it does not froth milk at all. Waited customet service line for 45 minutes. Never actually got to speak to a person. Paid full retail price
Date published: 2019-06-25
Rated

1

out of

5
by
MadWithoutEspresso
from
No replacement parts = planned obsoletion
Like a comment says below, you will one day need to replace the portafilter handle and filter baskets (the parts that hold the coffee grind) and Oster doesn't sell them anywhere! Too expensive a product to not sell parts that WILL need to be replaced.
Date published: 2019-07-11
Rated

3

out of

5
by
no parts
from
Great machine but can't get parts
We lost the little rubber tube in the milk reservoir and can't find a replacement anywhere. Unfortunately, this makes the entire machine rather useless. Would be great if replacement parts were available. It's going in the dumpster.
Date published: 2020-09-21
Rated

5

out of

5
by
Moeancha
from
Great Product
I bought it yesterday . I am so happy and satisfied with quality and features .
Date published: 2016-11-14