Images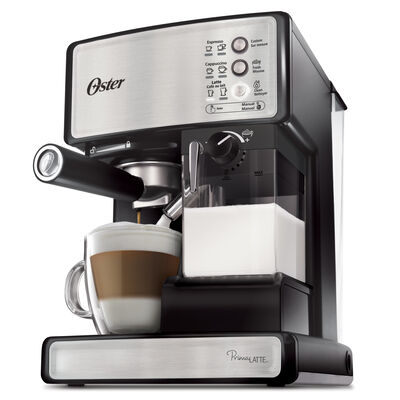 Oster® Prima Latte® 15-Bar Pump Espresso, Cappuccino & Latte Machine, Stainless Steel
Details
https://www.oster.ca/en_CA/coffee-and-kettles/coffee/oster-prima-latte-15-bar-pump-espresso-cappuccino-and-latte-machine-stainless-steel/BVSTEM6601SS-033.html
Oster
BVSTEM6601SS-033
https://www.oster.ca/on/demandware.static/-/Sites-master-catalog/default/dw7bd19cf7/images/highres/BVSTEM6601SS-033-1.jpg
Be your own Barista! Enjoy bold espressos, rich cappuccinos and decadent lattes in one simple touch with the Oster® Prima Latte® 15-bar pump espresso maker.
Product Specs:
Dimensions: Height:12.6:" x Width:8.86" x Depth:11.22"
Weight: 10.37 lbs.
Cord length: 26"
Watts: 1040W
See More...
Additional Information
Brew coffeehouse-style drinks just the way you like them right at home. In one simple touch, Oster® Prima Latte® brews espresso coffee with a 15-bar pump system and automatically froths milk for cappuccino and latte selections. You don't need Barista know-how to create custom coffee drinks like your favorite coffeehouse. Simply pick a single shot or double shot filter, select your grounds, fill milk reservoir, then choose your brew. A recipe book is included to help you create impressive coffee drinks, from espresso martinis to raspberry cappuccinos to choco-nutty lattes. Oster® Prima Latte® will save you a stop at the coffeehouse on busy weekday mornings, and save you time and money too!
Semi-automatic 3-in-1 espresso, cappuccino and latte maker
15 bar pump system brews rich-tasting espresso coffee
Trouble-free, automatic milk frother takes the guesswork out of frothing milk
One-touch control panel for drink selections
Easy-fill, removable water and milk reservoirs
Oster® Prima Latte® 15-Bar Pump Espresso, Cappuccino & Latte Machine, Stainless Steel
is rated out of
5
by
38
.
Rated

2

out of

5
by
ChrisV
from
Great machine but...
Oster does not sell the portafilter handle or the filter baskets as replacements parts so the machine is basically an expensive disposable machine.The parts were listed on the site for a while as unavailable but I cansee by peoples comments that they haven't been available for a few years. I keep going back and the parts are no longer even listed. We have tried to clean and de-scale the filter basket to no avail. Once my single espresso filter gets completely blocked (the portafilter handle is functional though broken) my machine will be completely useless. For the record the Prima Latte 2 also does not have replacement parts on available on the Oster site.
Date published: 2019-05-16
Rated

1

out of

5
by
Dean in Cambridge
from
Does not last
We purchased this coffee maker in November 2017. It makes great coffee with a wonderful presentation. The problem is it does not last. In April 2018, the coffee maker stopped working so we cleaned it as per the instructions and it worked again - for awhile. In August 2018, the unit failed completely. It froths milk but the coffee will not come out and all the lights flash repeatedly. We cleaned it several times but still it will not work. I checked the manual and performed a google search but could not locate a solution. The nearest repair centre is over 50km from my home, which I refuse to attend. We do not recommend this product.
Date published: 2018-08-24
Rated

5

out of

5
by
MAydin
from
Exceptional quality and price point!
Quite honestly, we bought this machine with very little hopes just as an starter. It exceeded all the expectations. The only struggle was initially to figure out the cub sizes :) Could have been easily avoided if we had spend some more time reading the manual. We are very happy with this little monster. 1 Month now, using it few times a day. Can't say anything bad about it.
Date published: 2017-02-17
Rated

1

out of

5
by
THSS
from
Components INSIDE milk resevoir lid do not clean!!
Lid of the milk resevoir will not clean properly despite regular cleaning and soaking with hot soapy water and pure vinegar. We also ran self clean of machine and resevoir at least every 50-60 cycles, within recommended range. Could not rid lid input tube opening of slight odour, so dismanteled lid and found the disgusting mess in the attached pictures. Even after cleaning individual components with hot water, soap and vinegar, still a slight smell. Definite design flaw here since cleaning (appart from dismantling lid) is not really possible. About 4 months past warranty, and at this point, Oster has not stood behind its product to offer a replacement lid. Look at the pictures and you decide for yourself if you want to be drinking the milk passing over this gunk everytime you make a latte or capucino.
Date published: 2019-05-16
Rated

1

out of

5
by
Wjms
from
Poor quality
After six months it can no longer froth milk, now it just puts out hot flat milk. I always cleaned after use I even took it apart and cleaned it's internal parts and still cannot froth.
Date published: 2017-10-27
Rated

5

out of

5
by
veronicam37
from
Love this coffee maker!!!
I bought my Prima Latte almost 4 years ago and have absolutely loved it!! I use it daily and have had almost no trouble with it. (just the normal maintenance of cleaning periodically. I rave about my Prima Latte to everyone, and often post on facebook about how much I love it. Sadly, today it seems to have stopped working correctly. I've tried cleaning it but it just isn't working anymore. I feel pretty sad about that, but honestly, it has lasted me almost 4 years!! I have no complaints, 4 years is a long time to have been supplying me with daily cappuccinos!! Thank you Oster!!
Date published: 2018-10-12
Rated

1

out of

5
by
Unhappy Too
from
NOT what one would expect!
Although makes single cups of coffee/whatever very well, the time and effort to fill, compact, brew, and then clean up between cups is most disturbing. Waiting for everything to cool down between cups is a bummer. Finding the kind of "pods" used in this machine is harder than finding a needle in a haystack. A very large haystack. And when you do, you have absolutely no way of knowing what you're buying since it's not sold conventionally. Then there is the quantity one must buy.....
Date published: 2019-11-16
Rated

2

out of

5
by
notsatisfied
from
It worked well when it worked
I tried to buy a new basket at Amazon, Walmart, and online. It is not available anywhere. I tried calling the number that is on the answers to all the questions waited for over 48 minutes for someone to answer my call. I was told to look for the product under the name of Mr. Coffee. I did look for it again, again no results. I asked a few stores that used to stock Sunbeam expresso coffee makers which both Oster, and Mr. Coffee are. I was told that they no longer sold either brand because of this specific reason. They are not reliable when it comes to parts.
Date published: 2019-11-17