Images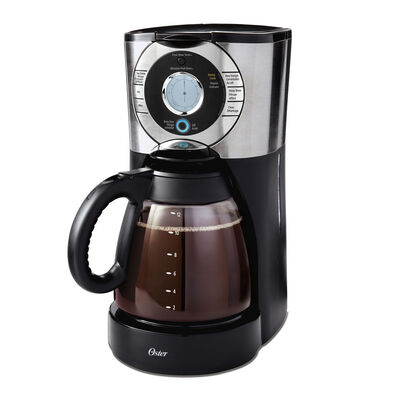 Oster® 12-Cup Programmable Coffee Maker, Stainless Steel
Details
https://www.oster.ca/en_CA/coffee-and-kettles/coffee/oster-12-cup-programmable-coffee-maker-stainless-steel/BVSTEJX33-033.html
Oster
BVSTEJX33-033
https://www.oster.ca/on/demandware.static/-/Sites-master-catalog/default/dw3d3f3f54/images/highres/BVSTEJX33-033-1.jpg
Style and function come together in this Oster® 12-Cup Programmable Coffeemaker. Enjoy all the brewing features a coffee lover appreciates for the best-tasting coffee.
Product Specs:
Dimensions: Height:13.86" x Width:6.89" x Depth:11.42"
Weight:6.05 lbs.
Cord length: 25"
Watts: 900W
See More...
Additional Information
The Oster® 12-Cup Programmable Coffeemaker brews rich-tasting coffee to satisfy cup after cup. it is designed to extract full coffee flavour with an enlarged showerhead, enabling water to completely saturate the coffee grounds during brewing. You can put the brewing on hold with Delay Brew to set start time up to 24 hours in advance while the Fresh Brew™ Timer tracks just how long your coffee has been ready. Brew Strength selector allows you to choose from light to more robust flavour. It's also equipped with a Pause 'N Serve feature that stops the brewing cycle to pour a cup or two, and then continues brewing until complete. Maintaining brewing system is easy with a special cleaning cycle to help keep your coffeemaker running at maximum level of performance and coffee taste. Convenient 2-hour auto shut-off turns off coffeemaker just in case you forget!
Delay Brew sets brewing time in advance
Brew Strength Selector to choose regular or more robust flavour
Pause 'N Serve allows you to pour a cup during the brewing cycle
Special cleaning cycle to maintain best coffee flavour
Fresh Brew™ Timer tracks coffee freshness from time it's brewed
Removable Filter Basket lifts out for fast and easy filling and cleaning
Oster® 12-Cup Programmable Coffee Maker, Stainless Steel
is rated out of
5
by
12
.
Rated

2

out of

5
by
BLynnS
from
Loud beep when brewing is completed
This coffee maker looks pretty and makes great coffee. However, there are two issues. First, the decanter has a little lip that catches the final bit of coffee in the pot, so if you're trying to pour it into a mug, it spills. But the real deal breaker is the beep when brewing is complete. Sometimes I just want a cup of coffee in peace and quiet by myself, before the rest of the household is up. And I cannot possibly do so with this coffee maker. The beeping is so loud it's obnoxious and it would definitely awaken an entire household. I see no way to disable it. Had I known this, I would not have purchased this unit.
Date published: 2018-08-23
Rated

3

out of

5
by
MegFarrell
from
Annoying beeping noise
It beeps after it's done brewing; it beeps after the warming plate turns off. The beeps are loud and wake up my children. There is no way to turn the beeping off. The manual does not even mention the loud beeping noise. Nor did the box. It's like if every morning my husband stepped on a piece of lego, shouted, and then our toddler insisted that it was time to get out of bed when all I want to do is drink a cup of coffee in peace. Only it's the coffee pot, not my husband, who is my enemy. Other than that, the coffee pot is pretty good. It's too bad it's so loud and annoying.
Date published: 2016-12-11
Rated

1

out of

5
by
Meilin
from
Horrible piece of hardware
I bought another Oster coffee maker which was more expensive and had more features but proved to be equally horrible very quickly and I was offered this even bigger piece of junk as a replacement (twice: long story short but the first one they sent was also faulty). The decanter leaks at the top after you pour your coffee out, a small portion gets trapped in the seal and leaks outside the decanter after pouring. Just all around messy and unpleasant. The icing on the cake for me though was when it brewed/leaked all over my counter for whatever reason. I saw some other not-so-good reviews about some of your coffee makers but ignored them thinking of course some will be faulty but not all...wrong! Every single one was faulty! And to boot all I'm offered is another equally awful coffee maker after another. The time I've spent trying to rectify every single time is gone so please just give me my money back!!
Date published: 2017-03-30
Rated

1

out of

5
by
Polly21
from
Buyer beware
I bought this coffeemaker a little over 2 years ago, believing the Oster name meant quality and reliability, and willing to spend a bit more for a solid unit. I generally make 2 cups a day (so fairly light use) but after a year my machine started leaking and dripping. This month the water has stopped heating/pumping and the warming plate remains cold. It's scrap. So disappointed.
Date published: 2019-07-28
Rated

1

out of

5
by
Shannon16
from
Died just after a year
I was really happy with this machine at first. It worked well and I liked all of the features included. Suddenly it just stopped working. The arms on the clock started flickering, and it wouldn't respond to the "brew now" button. I unplugged the machine, plugged it back in and nothing works now. Very disappointing for a machine that is only a little over a year old.
Date published: 2018-07-16
Rated

3

out of

5
by
B1ll
from
Excellent Customer Care Following Product Issue
This model tends to have some reliability issues, however, Oster Customer Care team and specifically team member, M******* went above and beyond to assist us with our issue. What we can say is this model does make some of the best brewed coffee we've had if you can accept some of the product shortcomings.
Date published: 2017-10-28
Rated

1

out of

5
by
Corey
from
Shortage and fire
Mine literally caught on fire. I heard what sounded like a wire shorting out and the plate got so hot and the casing melted I previously had a similar model but older Oster and it was great. But this one barely lasted a year and a half.
Date published: 2020-04-22
Rated

1

out of

5
by
jen_w
from
DIED AFTER ONE YEAR
noticed the clock fading in and out, so i unplugged it and plugged it back in. then clock only displayed the dots, no hands and brewer won't turn on. so sad because i really loved this coffee maker
Date published: 2016-07-28