Images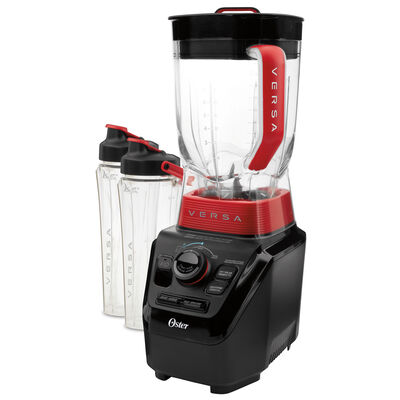 Oster® Versa® 1,100 Watt Multi Speed Performance Blender with Blend-N-Go® Bundle, Black
Details
https://www.oster.ca/en_CA/blenders/versa/oster-versa--1100-watt-multi-speed-performance-blender-with-blend-n-go-bundle-black/BLSTVB-100A-033.html
Oster
BLSTVB-100A-033
https://www.oster.ca/on/demandware.static/-/Sites-master-catalog/default/dw74b97281/images/highres/BLSTVB-100A-033-1.jpg
Powerful performance within reach. The Oster® Versa® Performance Blender is the perfect blend of power, precision and proven performance to ensure the freshest, healthiest blending possible.
Product Specs:
Dimensions: H 17.70" X W 6.30" X D 9.10" Weight 11.5 lbs
Watts: 1100W
See More...
Additional Information
Today's most advanced blender, the Oster® Versa® Performance Blender makes it possible to blend whole fruits, vegetables and more into healthy smoothies and nutritious dishes for optimal nutrition. Its powerful 1100-watt motor and reversing motor technology blends foods to the perfect consistency and the freshest taste. Make the most of your ingredients and explore the blendabilities with the Oster® Versa® Performance Blender.
Crush ice with 1100 watts of power
Electronic pre-programmed settings for consistent results and convenient one-touch operation
All-Metal Drive® for lasting durability
Blend in the large 8-cup dishwasher safe, BPA-free Tritan™ plastic jar
Dial control for variable manual speeds (Lo/Med/Hi)
Reversing motor technology draws harder to process ingredients to the blade for perfect blending
Blend directly in the 2 Blend-N-Go® cups to take your drinks with you
Colour recipe book included
Limited 7 year warranty
Oster® Versa® 1,100 Watt Multi Speed Performance Blender with Blend-N-Go® Bundle, Black
is rated out of
5
by
32
.
Rated

5

out of

5
by
m_degeorge32
from
Very Powerful
I received this blender as a sample to test the product. I thoroughly tested the product and found it to be so versitle and powerful. It pureed things that I have had trouble getting smooth with other blenders that I have used. With the different attachments it works as a blender and a food processor and makes the absolute smoothest purees and smoothies. There are even individual to go cups that you can make smoothies in to go. There are a lot of pieces as a result of this versatility, but managing storage on this is definitely worth it! I highly recommend this product to others as you will be able to have one appliace do the work of two or three and do it very well!
Date published: 2014-04-29
Rated

5

out of

5
by
Breezewoman
from
Great service!
I would just like to commend Oster for standing behind their products. I have owned Oster appliances for many years and less than a year ago purchased the Oster Versa. While blending today the rod in the base which causes the blades to spin broke off. I called the company and within 30 minutes got confirmation that the company would be sending me a free new base without having to return the old one. Within an hour I had email confirmation that my order had been processed. This is why I always use Oster products because they stand behind their products! Thanks Oster!
Date published: 2015-07-28
Rated

5

out of

5
by
LeonaVISA
from
SO much in one machine!
I was in the market for a high end food processor when I got offered to receive this one as a sample to try and let me tell u it's fantastic! It's high powered and the blender attachment alone does better than expensive Farberware blender ... The food processor attachment is my favorite kitchen tool now! Powerful, easy to use and easy to clean! My teenagers love the single serve smoothie attachments and use them daily! For the price of this ONE machine u are getting a kitchen tool that can replace several others u have right now! More counter space!! Yay!
Date published: 2014-04-25
Rated

5

out of

5
by
Budman499
from
Great Performance Blender
I loved this blender. I have used it 20-30 times already and have nothing but great things to say. The different size containers used and the food processor containers are all very well made and very functional. The blender is powerful, easy to use and does a great job. I usually make a protein shake after a gym workout; so I throw all the ingredients into the blender, hit the "Smoothie" setting and walk away. 1 minute later, a perfect shake. Disclaimer: I received this product as a sample to review
Date published: 2014-04-25
Rated

5

out of

5
by
dwitzi01
from
Love it!
This blender is so easy to use and chops up almost everything. I use it regularly to make smoothies and they always turn out "restaurant style" Blends and chops everything up perfectly. Great modern design and fits in perfectly with my kitchen decor. The motor is a little loud but worth it to have such an amazing blender. I love the blend and go cups. So easy and convenient to use. I received this product for free to test and review. I absolutely love it. Doing away with the old blender!
Date published: 2014-04-26
Rated

3

out of

5
by
Foodie123
from
Great product but food processor cup broke easily
I like my blender/food processor dual function appliance, and it works well. However, I am disappointed that the lid for the food processor broke quite easily (it fell out of my cabinet), and now I have to buy an ENTIRE new food processor attachment since the cup/lid is not available separately. Then when I went to order the whole food processor attachment, I was disappointed to find that it is out of stock for at least the next 4-6 weeks (and there is no option to be notified when it is back in stock). [This review was collected as part of a promotion.]
Date published: 2017-02-16
Rated

5

out of

5
by
Waterboy
from
I really like this blender
I have always been skeptical of high-end kitchen appliances—stand mixers, programmable slow cookers, etc. So I never really wanted to buy into these new 'super blenders.' After all, when was I going to need to blend an iPhone? We did get "Ninja" a couple years back. It actually was an upgrade over our old, cheap blender, albeit with some shortcomings. It never chopped evenly, you could only run it for 15 seconds at a time, it only had one setting, and the blending jars were a little small. If a $60 blender wasn't that much of an upgrade over my $20 one, why would I want something that costs even more? That's where my Versa Blender surprised me. In my opinion, for any pricy appliance to be worth it, they can't just do a single job better than their less expensive counterparts. They need to actually do more jobs. So a nicer blender shouldn't just blend. It should also chop, slice, dice, plus make me a smoothie. And this one does. It actually makes peanut butter. I'm using this thing for stuff I had never thought of. I hardly ever make a meal without using it. I'm terrible at chopping veggies. I don't know if I should blame myself or my knives, but I'm bad at it—and half the recipes I use call for onions. Now I just throw them in the food processor jar, and it 10 seconds, I have diced onions. What else? Chopped cilantro. My wife makes this cilantro-lime rice (like a certain fast casual chain named after smoked jalapenos). The problem is, to evenly distribute the flavor, you've got to really, really dice up the fresh cilantro. That's hard to do—unless you have this baby. My most common use for this blender is for green smoothies. If you're not familiar with them, they are drinks made up mainly of leafy greens and frozen fruit. I'm by no means a health nut. It's more of my way of getting in my veggies when dinners consist mainly of corn dogs, or something equally bad. The worst part about those green smoothies is the tiny bits of spinach and kale. The taste isn't that bad. I can down worse-tasting stuff. It's the texture that kills it. My old Ninja did a suitable job. But the Versa Blender rocks it. No bits of green. I actually drink the stuff more regularly now because they aren't so terrible. On top of that, the jar is big enough that I can add in all the ingredients at once, and then push the 'Smoothie' preset and walk away. The whole thing blends itself in about a minute. Oh, and I love the little blender bottles that come with it. Perfect if you want blend something but take it to work. My wife has done that a few times with her green smoothie. I would recommend this product to anyone. Disclaimer: I was originally given this blender for free, specifically to test and provide feedback on its use. I agreed to write a review as a condition of receiving it. That said, I did not have to promise to make it a positive review, and I would not face any negative consequences for writing a one star review, or to have only written 3 lines.
Date published: 2014-04-25
Rated

4

out of

5
by
szett27
from
Great Easy to Use Blender
The blender worked exceptionally well and had enough power for every item we wanted to blend. I loved using the to go cups and making quick and easy smoothies on the way to work. The only drawbacks were that the food processor lid easily broke off a piece after a small fall (<3ft) and the seating of the large blender off was not as easy as it could have been. Overall this is a fantastic blender and one I highly recommend. Disclosure: I received this blender as a sample to review
Date published: 2014-04-27