Oster® Prima Latte® 15-Bar Pump Espresso, Cappuccino & Latte Machine, Stainless Steel
Details
https://www.oster.ca/en_CA/beverages/espresso-makers/oster-prima-latte-15-bar-pump-espresso-cappuccino-and-latte-machine-stainless-steel/BVSTEM6601SS-033.html
Images
Product Actions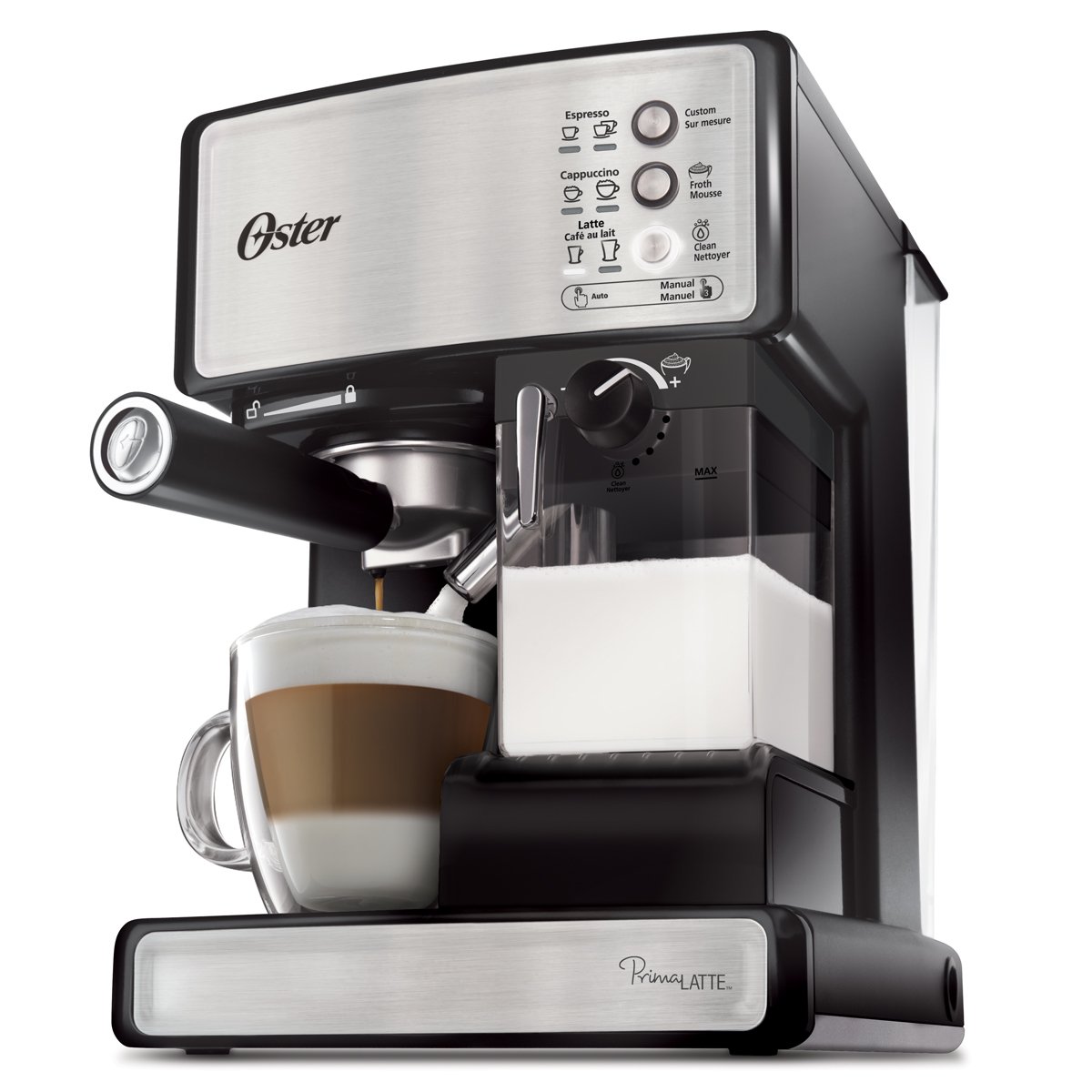 Oster® Prima Latte® 15-Bar Pump Espresso, Cappuccino & Latte Machine, Stainless Steel
- See final price in cart
Promotions
Be your own Barista! Enjoy bold espressos, rich cappuccinos and decadent lattes in one simple touch with the Oster® Prima Latte® 15-bar pump espresso maker.
Product Specs:
Dimensions: Height:12.6:" x Width:8.86" x Depth:11.22"
Weight: 10.37 lbs.
Cord length: 26"
Watts: 1040W
Overview
Brew coffeehouse-style drinks just the way you like them right at home. In one simple touch, Oster® Prima Latte® brews espresso coffee with a 15-bar pump system and automatically froths milk for cappuccino and latte selections. You don't need Barista know-how to create custom coffee drinks like your favorite coffeehouse. Simply pick a single shot or double shot filter, select your grounds, fill milk reservoir, then choose your brew. A recipe book is included to help you create impressive coffee drinks, from espresso martinis to raspberry cappuccinos to choco-nutty lattes. Oster® Prima Latte® will save you a stop at the coffeehouse on busy weekday mornings, and save you time and money too!
Semi-automatic 3-in-1 espresso, cappuccino and latte maker
15 bar pump system brews rich-tasting espresso coffee
Trouble-free, automatic milk frother takes the guesswork out of frothing milk
One-touch control panel for drink selections
Easy-fill, removable water and milk reservoirs
Questions & Answers
Service & Support
Oster® Prima Latte® 15-Bar Pump Espresso, Cappuccino & Latte Machine, Stainless Steel
is rated out of
5
by
25
.
Rated

1

out of

5
by
Dean in Cambridge
from
Does not last
We purchased this coffee maker in November 2017. It makes great coffee with a wonderful presentation. The problem is it does not last. In April 2018, the coffee maker stopped working so we cleaned it as per the instructions and it worked again - for awhile. In August 2018, the unit failed completely. It froths milk but the coffee will not come out and all the lights flash repeatedly. We cleaned it several times but still it will not work. I checked the manual and performed a google search but could not locate a solution. The nearest repair centre is over 50km from my home, which I refuse to attend. We do not recommend this product.
Date published: 2018-08-24
Rated

5

out of

5
by
MAydin
from
Exceptional quality and price point!
Quite honestly, we bought this machine with very little hopes just as an starter. It exceeded all the expectations. The only struggle was initially to figure out the cub sizes :) Could have been easily avoided if we had spend some more time reading the manual. We are very happy with this little monster. 1 Month now, using it few times a day. Can't say anything bad about it.
Date published: 2017-02-17
Rated

5

out of

5
by
veronicam37
from
Love this coffee maker!!!
I bought my Prima Latte almost 4 years ago and have absolutely loved it!! I use it daily and have had almost no trouble with it. (just the normal maintenance of cleaning periodically. I rave about my Prima Latte to everyone, and often post on facebook about how much I love it. Sadly, today it seems to have stopped working correctly. I've tried cleaning it but it just isn't working anymore. I feel pretty sad about that, but honestly, it has lasted me almost 4 years!! I have no complaints, 4 years is a long time to have been supplying me with daily cappuccinos!! Thank you Oster!!
Date published: 2018-10-12
Rated

4

out of

5
by
Annab
from
I am changing my review
I boight one for my husband. After a few weeks no more froth. Very disaapointed so i called oster. They were amaIng replaced my cappacino maker. It works perfectly Thank you
Date published: 2017-01-24
Rated

1

out of

5
by
Wjms
from
Poor quality
After six months it can no longer froth milk, now it just puts out hot flat milk. I always cleaned after use I even took it apart and cleaned it's internal parts and still cannot froth.
Date published: 2017-10-27
Rated

5

out of

5
by
My Pride
from
:ove it..! easy to use....Great machine...
I actually bought 2 of these coffee machines...I live outside Calgary, Canada, Chestermere to be more specific.....I was in South America, (For two months) Chile in January-2017. While I was visiting my cousin outside Santiago he offers me a latte coffee and I was so impressed with the coffee that I decided to buy one for my self to have in my apartment in Chile. At home in Canada I have a Breville coffee maker, much larger in size but much more complicated to use......So within a month after I came back I decided to buy my second Oster Prima Latte and it is exactly the same machine I have in Chile, chrome finish and excellent quality. Thank you for creating a great product. Enrique and Karen Gonzales. NOTE: If I was to re-design the Prima Latte...I would add a small coffee grinder....even if you will have to increase to sale price by another $40.00
Date published: 2017-04-27
Rated

5

out of

5
by
coffee loer
from
best coffee machine ever
over the years I have purchased many coffee machines most were quite good but they always involved some work to get a perfect cup of cappuccino or latte ...now with this machine it's as easy as pressing a button for the exact quantities of milk and coffee to mix and obtain a perfect brew...also it is a lot more economical than the coffee machines that use capsules ....I couldn't be more happy with this purchase
Date published: 2018-03-17
Rated

4

out of

5
by
Hellen
from
Good
Have been using it for a month; good value for the price, we like it. Easy to use and makes good coffee, good milk froth. Cheap materials, more plastic, but u shouldn't expect more for this price range. The cleaning function doesn't clean well, though, u have to diassemble the milk frother and clean it well inside to avoid mold accumulation. But overall it is a great coffee machine for the price.
Date published: 2018-02-17