Images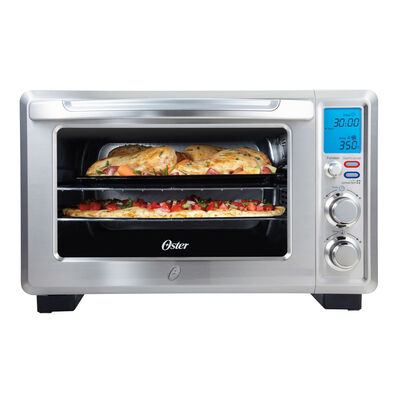 Oster® Inspire™ 6-Slice Digital Convection Countertop Oven, Stainless Steel
Details
http://www.oster.ca/en_CA/toasters-and-countertop-ovens/countertop-ovens/oster-inspire-6-slice-digital-convection-countertop-oven-stainless-steel/TSSTTVDFL1-033.html
Product Actions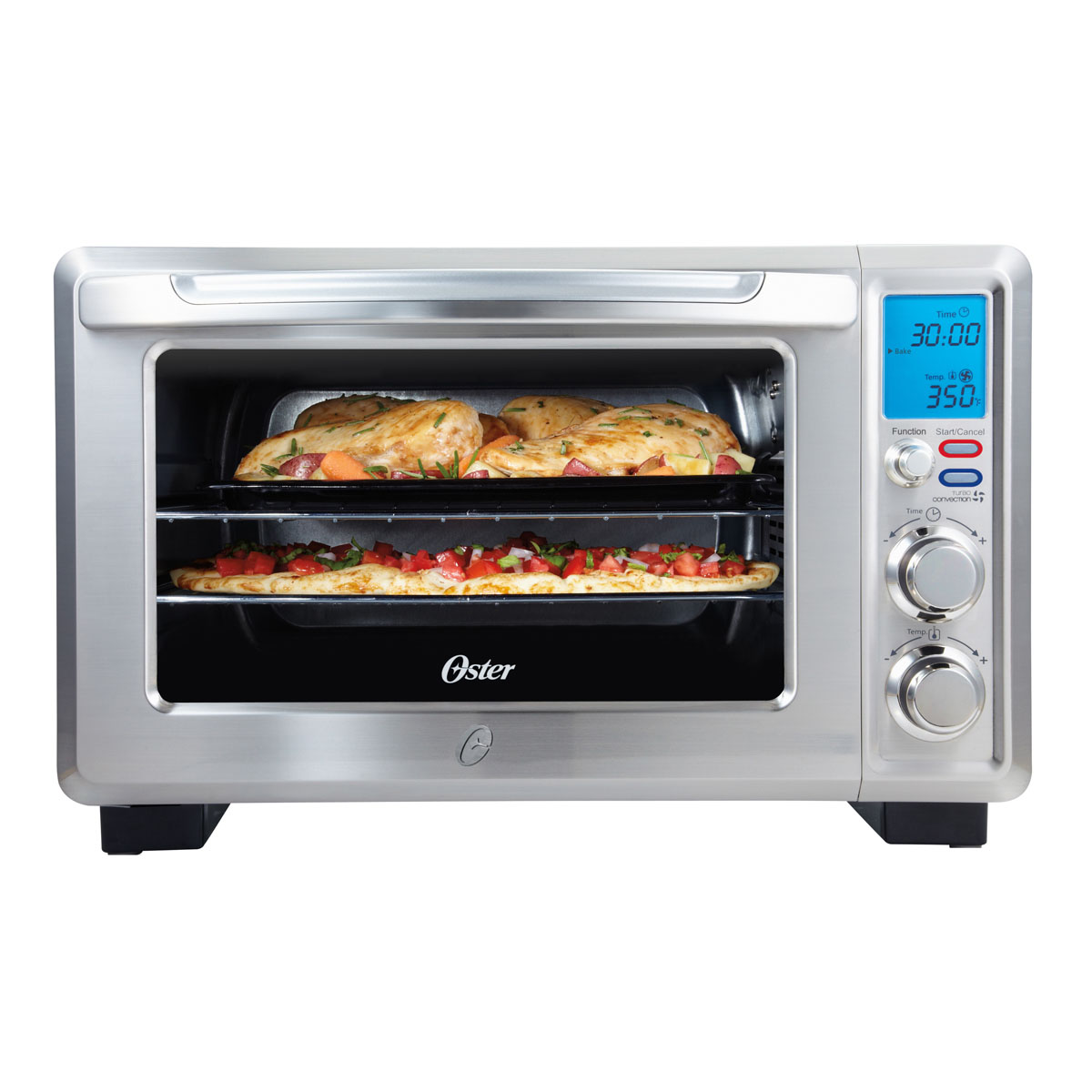 Oster® Inspire™ 6-Slice Digital Convection Countertop Oven, Stainless Steel
- See final price in cart
Make everything from cookies to pizza, to roast beef with this digital countertop convection oven. Save space and electricity with a programmable toaster oven that does literally everything.
See More...
Additional Information
Overview
Bake, broil, roast, defrost and reheat with an Oster® Inspire™ Convection Countertop Oven. Introducing a stylish stainless steel convection toaster oven that is large enough to accommodate a 13" x 9" roasting/baking pan or large frozen pizza. This Oster® countertop oven relies on turbo convection technology to cook food quickly and evenly. With 10 pre-programmed cook functions, the Oster® Inspire™ automatically adjusts based on how and what you wish to cook.
Oster® Inspire™ Digital Convection Countertop Oven features:
Faster, more even turbo convection cooking
10 digital cooking functions: Bake, Pizza, Broil, Toast, Bagel, Roast, Defrost, Warm, Reheat, Cookies
Soft-touch digital and manual controls
60-minute timer with auto shut-off and bell signal
Extra large LCD back-lit display
Two rack positions
Two wire racks
Durable baking pan with rack and extra cooking rack
Removable crumb tray
Limited 5 year warranty
Oster® Inspire™ 6-Slice Digital Convection Countertop Oven, Stainless Steel
is rated out of
5
by
8
.
Rated

4

out of

5
by
PandI
from
Pretty good but not quite great.
We got this on sale for $100cdn. So far it is pretty good but some features (or lack of them) make it only a good buy on sale. Pros: Looks great, 2 shelves, roomy inside, takes most medium sized baking dishes, convection, bakes evenly, digital controls, digital timer (essential). Cons: Can't select between C or F degrees. Can't deactivate or turn down the beeper (very loud). The shelves are a little flimsy for heavy, glass dishes. NO PREHEAT function (really annoying - this was almost a deal breaker for us)! Also it is too big for efficient toasting. We got a two slice toaster for that job. So if you want a decent small oven at a decent price, this is a very good choice.
Date published: 2017-02-27
Rated

3

out of

5
by
Lori
from
Lots of great features
I enjoy using this toaster over, but it seems to take twice as long to cook my food....I cook it at what the recipe calls for, but it is never done on time...I usually end up cooking it twice as long - for meats especially. I am not sure if that really makes if more economical or not. I have not actually tested the temperature settings to see if that may be the problem. I enjoy that I do not have to heat up my kitchen with the large oven.
Date published: 2015-06-06
Rated

5

out of

5
by
ScotiaBreeze
from
Best thing since sliced bread :)
I have a bad back and have a rod and two plates in it. It was very hard bending over in my oven lifting pans and cookie sheets in and out, not to mention having to bend over to bake,roast,etc. Now that my husband has passed away and I live alone, my toaster oven has been the best helper in my kitchen. I would highly recommend for anyone to buy one. Not only saves on your power bill but also on your health.
Date published: 2016-09-25
Rated

5

out of

5
by
JenC
from
Perfection!
I bought this Oster countertop oven 3 weeks ago & I use it every day. I originally bought it because I couldn't find a regular toaster large enough to hold the specialty bread I buy. Toast, bagels & cheesy garlic toast come out amazing. I just moved into an apartment with an older stove/oven. I tried to use the oven once and had to throw out the pizza because it didn't bake properly. Also, the temp inside my apartment increased by over 10 degrees! I decided to give the countertop oven a try and am happy I did. I have used the oven for baking chicken, enchiladas & frozen meals. Last night I roasted asparagus, garlic & onions to make asparagus soup. It was incredible! I haven't used my regular oven since I purchased my Oster countertop oven. Plus, my apartment doesn't heat up during its use. I plan on using my Oster countertop oven even after my full size stove/oven is replaced. I couldn't be happier with this purchase.
Date published: 2015-03-31
Rated

5

out of

5
by
Chef Pepin
from
Great investment
We bought this oven about a month ago, we had an Italian brand that lasted 1 year complete waste of money, so far the oven is amazing, digital screen is easy to read and use, will need to see about how long it will last, but considering that it has a 5 years Limited warranty I'm sure it will be fine. Highly recommended.
Date published: 2016-10-23
Rated

1

out of

5
by
BrandiC
from
So Disappointed
I purchased this product about a month ago, and I hate it more and more with each use. We used to have a Kitchen Aid toaster oven, but unfortunately after many years of good service, it went to toaster oven heaven. We thought that the Oster brand one would be just as good... Boy were we wrong. This oven is confusing to use with the dials, symbols and many (too many) options for type of cooking (bake, broil, etc). The beeps it makes with turning on and off are so loud I'm reluctant to use it when my toddler is sleeping (seriously that loud), the temperature is in Celsius, and can not be changed to Fahrenheit (if it can i have had no luck finding how...), and the biggest disappointment of all is it cant even be programmed to reach higher temperatures... I don't recall what it goes up to off the top of my head, but it wont go to the equivalent of 400F (204.4C). Why even have a broil function if the unit wont even reach an appropriate broil temperature? This oven is going back ASAP!
Date published: 2017-01-23
Rated

1

out of

5
by
Lina
from
Toaster Oven Blues
Had an Oster toaster oven for 10 years, loved it. Bought this model 3 months ago & I hate it!
Date published: 2015-08-19
Rated

4

out of

5
by
mrclaus
from
toaster oven
bought as a gift, so we have not used it, but it looks good.
Date published: 2016-11-24