Images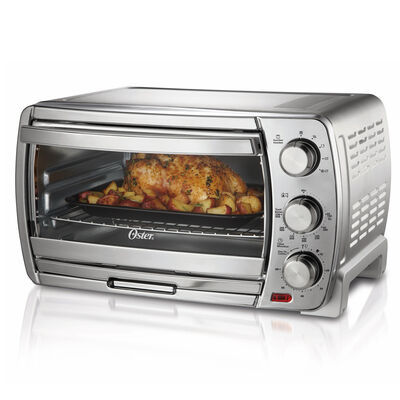 Oster® Extra Large Convection Oven, Stainless Steel
Details
http://www.oster.ca/en_CA/toasters-and-countertop-ovens/countertop-ovens/oster-extra-large-convection-oven-stainless-steel/TSSTTVSK01-033.html
Availability:
This item is currently not available online.
From baking to roasting, and every culinary creation in between, use the Oster
®
Extra Large Convection Oven for cooking your best creations.
See More...
Additional Information
Cook with the convenience of an oven on your countertop. Convection technology provides faster, more even cooking for optimal results. The extra-large capacity can accommodate a 13" x 9" roasting/baking pan and fits a 12" pizza. This also features a 150-450° temperature range, bakes, broils, toasts and even bakes pizza. Avoid turning on your conventional oven to keep the kitchen cooler and to conserve energy. With the Oster® brand, you can cook with passion and serve with pleasure.
Faster more even convection cooking
Easy-to-use dial controls
Bake, broil, toast and pizza functions
2 rack positions
60-minute timer with auto shut-off and bell signal
Removable crumb tray
Durable enamel baking pan and broiler rack
Brushed chrome finish
Limited 1 year warranty
Oster® Extra Large Convection Oven, Stainless Steel
is rated out of
5
by
20
.
Rated

5

out of

5
by
Mommyof3Girls
from
Large capacity, easy to use
This oven has come in super handy when feeding my family of 5! It has a large capacity so I can prepare a whole pizza or chicken at once, which I love. This oven is super easy to use and very self explanatory. Even my 5 year old is learning how to use it to make herself snacks! It is easy to wipe clean and we love the chrome. It goes really well with our kitchen! So far all the food we've prepared in the oven has come out wonderfully. We've had no problems with food not be cooked right the first time. Love this oven! Highly recommend! Please note I was given this product to try but all thoughts are my own.
Date published: 2014-12-03
Rated

2

out of

5
by
Disposable junk
from
Was great while it lasted.
We received this as a gift for Christmas 2014. While the power light never worked, the convection function worked well and we used it frequently when making smaller items. Unfortunately, a year later – and just outside of the warranty – that is no longer the case. While heating up a batch of sweet potato fries the fan started making an awful noise and has now stopped working. It still seems to be functioning as a toaster oven, but that's not really worth the cost. My parents had a convection oven that lasted over 30 years, why is everything such junk now?!
Date published: 2016-01-18
Rated

1

out of

5
by
sillygoosegirl
from
Very Disappointed!!
I purchased this oven two or three years ago as a birthday gift for my husband. We were excited about all of its features and expected capabilities. However, it has been extremely difficult to use, even though we have followed the instructions and suggestions to the letter. We also tried making adjustments, which is frustrating and time consuming. Due to our continued frustration, we finally stopped using the oven. Today I gave it one last shot just to bake rolls which ended up burned and not edible. I believe there may be temperature issues . . . but I have no way of knowing. I wish we had gone with a simpler product as now we are left with a rather large, unusable appliance taking up limited counter space.
Date published: 2016-02-13
Rated

5

out of

5
by
Sherry J
from
I absolutely LOVE IT!!
I was given the Oster Extra Large Convection Oven and LOVE IT! I really like the extra large dials and it's super easy to use. The temperature and cooking time is accurate and I've never under or overcooked anything (so far anyway). I really enjoy it and my son uses it a lot too. It's large enough to cook a roast or turkey breast or just toast some bread. I highly recommend it.
Date published: 2014-11-09
Rated

4

out of

5
by
slwilson23
from
Much rather use this than my big oven
I thought when I first got this oven that I would only use it to toast something BUT I use it all the time! It pre-heats way faster than my regular oven. That is huge when I am trying to get dinner made after working all day!! Another plus is that I have a 2 year old and this oven sits on my counter so he can't get to it. With my regular kitchen oven, I have to constantly watch that he won't touch it. Food cooks a little bit faster, but with the almost non-existent pre-heat time, dinner is on the table way faster. I've cooked a variety of foods. My only complaint is the baking tray is not non-stick and therefore got yucky quickly. I now just cover it in foil. ***Note: I received this product as a sample to review.
Date published: 2014-12-04
Rated

5

out of

5
by
Airesjb
from
I love this oven!
This oven is exceptional! At first, I thought that the idea of having a toaster oven was silly. And, when we did not have an oven, this oven totally exceeded my expectations!! I prefer it over a regular oven. It's easy to use. It bakes things evenly. It is large enough to a bake 12" pizza, or fit a medium casserole. We can really bake anything we want!
Date published: 2015-04-02
Rated

2

out of

5
by
ken s
from
Temperature issue
Purchased on 7/29/15.first batch of biscuits browned on top raw in the middle, lowered temp came out ok. checked dial temp against oven thermometer and found 400 was actually 525,300/400. made a correction chart
Date published: 2015-08-02
Rated

1

out of

5
by
alisondawn
from
Bad Product broke after 2 mos
I bought this oven a little over 2 months ago. It worked ok until yesterday when I was baking a pizza , it started smelling like burnt plastic and the light by the timer knob flickered off. I jiggled the knob lightly and it just caved inside! seems the wires behind the knob burned up! iv barely used it a few times, and it simply broke cause its a piece of CRUD. DONT BUY THIS PRODUCT ITS SHABBY
Date published: 2015-06-23