Images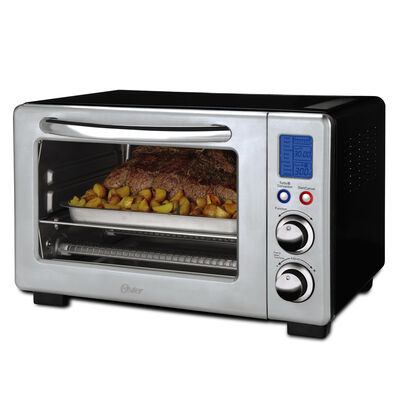 Oster® 6-Slice Convection Digital Countertop Oven, Stainless Steel
Details
http://www.oster.ca/en_CA/toasters-and-countertop-ovens/countertop-ovens/oster-6-slice-convection-digital-countertop-oven-stainless-steel/TSSTTVDG01-033.html
Availability:
This item is currently not available online.
From baking to roasting, and every culinary creation in between, use the Oster
®
Large Digital Convection Countertop Oven for cooking your best creations.
See More...
Additional Information
Cook with the convenience of an oven on your countertop. Turbo convection technology provides faster, more even cooking for optimal results. The large capacity can accommodate a 13" x 9" roasting/baking pan and fits a large frozen pizza. This also features a 150-450° temperature range and 10 pre-programmed cooking functions. Avoid turning on your conventional oven to keep the kitchen cooler and to conserve energy. With the Oster® brand, you can cook with passion and serve with pleasure.
Faster, more even turbo convection cooking
Easy-to-use dial controls
60 minute timer
10 digital cooking functions: Bake, Pizza, Broil, Toast, Bagel, Roast, Defrost, Warm, Reheat, Cookies
Brushed stainless accent
Oster® 6-Slice Convection Digital Countertop Oven, Stainless Steel
is rated out of
5
by
19
.
Rated

5

out of

5
by
Storm54
from
Great features!
I received this as a Christmas present several years ago. I absolutely love this oven. It's easy to use & everyone in the house uses it without any problems. I bake brownies in it. Banana bread, cookies, meatloaf, fish & it's great for reheating food or warming up pizza. Defrosting frozen fruit for waffles. Also, it doesn't heat the whole house up, and when I am cooking a big meal & I need my big oven, the toaster oven comes in handy to handle smaller dishes or for warming up something that cooked ahead. I bought one for a friend for her BDay & she loves it, too.
Date published: 2014-06-30
Rated

4

out of

5
by
bcsparks
from
Great so far
Well, we have had the oven for 2 weeks, so far so good, I must say I am a little discouraged by the comments about the digital screen going bad. We purchased this one because it is more compact on the counter than the Black and Decker we had, and the screen lights up, the B+D screen did not. although to be fair the B+D unit could hold a large pizza, this one cannot, and the B+D showed temp as it preheated, and had guards over the bottom elements. We are still learning on this one. I think it is a good value for the price. We will see, will try to remember to come back and update later.
Date published: 2016-01-20
Rated

4

out of

5
by
jojo90
from
Loved it...for the short time it worked
Had this model for a one and a half years until one day the temp knob went. I used it every single day for one thing or another. Shame it only had a year warranty. Was great while it lasted. Bought another Oster model with a 5 year warranty. Fingers crossed.
Date published: 2014-09-23
Rated

5

out of

5
by
Awade13
from
Love it!!
My husband and I received this toaster oven as a wedding gift almost 4 years ago. I love this oven and use it almost every day. The large size even accommodates my husband's love for frozen pizza. With only having to cook for 2 people this oven is great and keeps me from having to use our regular stovetop oven. In the 4 years we have had this oven, we have not experienced a single problem with it. It has even survived two moves, one of which was across the state. Recently my mother came to visit me from Mexico and fell in love with this oven so much she wanted to pack it in her suitcase and take it with her since she isn't able to get one there. So, needless to say, I would highly recommend this oven to anyone! [This review was collected as part of a promotion.]
Date published: 2016-04-07
Rated

5

out of

5
by
Cooper27
from
We love this oven!!!
We have had this toaster oven for almost a year and use it daily. We haven't turned on our regular oven hardly at all! Cooks great and so easy for the whole family to use! [This review was collected as part of a promotion.]
Date published: 2015-12-01
Rated

4

out of

5
by
Red Ryder
from
Some good some not so good
Wished it had a pre-heat feature and gave the internal temp. all the time. It takes too long make toast. I still use my toaster for bagles, English muffins and toast.
Date published: 2015-01-17
Rated

2

out of

5
by
cindybee
from
Good while it lasted, and that wasn't long.
We purchased this toaster oven to replace our microwave and it worked very well at first. I wasn't crazy about the limited temperature choices and having to manually enter one if it isn't pre-programmed was very annoying. Once it passed the 1 year warranty mark, the bottom knob stopped working and 3 weeks later, the screen is blank and the buttons are malfunctioning. Overall, we were very disappointed.
Date published: 2015-06-21
Rated

1

out of

5
by
rryan58
from
Great while it works
Already tried to get my review posted but only the good reviews are showing up. I have had 3 of these ovens in the past 2-1/2 years. I aboslutely loved them, while they worked. All 3 had the exact same issue, the screen just went blank and the unit never would turn on again. 1,2,3 that 3 strikes so this oven is out for me. Looking for another product that is more reliable.
Date published: 2015-04-28