Images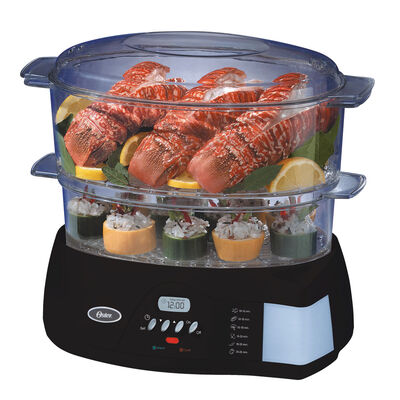 Oster® 6-Quart Digital Food Steamer
Details
http://www.oster.ca/en_CA/cooking-and-food-prep/food-steamers-and-rice-cookers/oster-6-quart-digital-food-steamer/5716-33.html
Availability:
This item is currently not available online.
Steam your way to healthy eating with the Oster
®
Digital Food Steamer. Create fresh-tasting meals full of flavour and nutrition.
See More...
Additional Information
Create healthy meals using steam cook method for low-fat food preparation. This large-capacity, double-tiered 6.1-quart digital control steamer is designed with 2 steaming bowls so you can prepare a complete meal quickly and easily. Enjoy a healthier lifestyle and feel good about the food you prepare. With the Oster® brand, you can cook with passion and serve with pleasure.
6-Quart Total Capacity steams meats, veggies, and more
95-minute timer with auto-off feature
Keep warm setting
Trays nest for easy storage
Oster® 6-Quart Digital Food Steamer
is rated out of
5
by
24
.
Rated

4

out of

5
by
Healer1234
from
Oster Steamer model 5712
We have been using this steamer for 7 years +. We love it. The only problem we have had is that our primary bowl was the Upper steaming bowl... and it lasts for about 2 years and then starts cracking. I repair it with super glue until I can't repair it any longer and I have tried to buy a new bowl and it is never available. The lower steaming bowl can be used instead but that is somewhat smaller and not a useful. We have now had to buy a second unit to get the bowl... and I'm now loking a getting a third. I would much rather just buy a replacement bowl.
Date published: 2014-09-19
Rated

5

out of

5
by
Danny
from
Most Excellent
I purchased this machine like two years ago and it just sat in my closet. I finally had to use it because SoCal Gas is the WORST company, and I wouldn't have the stove on for 2 weeks. Well, I'm glad that happened ... because this machine is the easiest thing to use and it cooked the food perfectly. The veggies retained their flavor because they weren't boiled, and the fish came out perfect. PERFECT Salmon.
Date published: 2014-07-01
Rated

5

out of

5
by
Holly
from
Best steamer in the world!
I was given this same steamer for a Christmas gift at least 6 or more years ago. I used it about 5 out of every 7 days and liked the versatility and that it had 2 baskets. I steamed my hard boiled eggs in it once a week and vowed never to babysit a pan of boiling eggs ever again. When I cracked the lid a few weeks ago, I decided to buy a new one and not repair the crack. I selected the digital/programmable one as I am sold on the model overall. Boy, was I in for a treat! Planning the steaming of veggies to finish on time with the other dishes has made dinner prep go from great to perfect! Best steamer you will find and a great price with superior quality. Will never buy anything else if they keep making it!
Date published: 2015-03-08
Rated

5

out of

5
by
Bea1
from
Fantastic versatility
I have had my Oster steamer for almost a year now. I use it every day - from making my steel cut oats in the morning, to steaming rice and vegetables for the evening meal. You can steam beets and they don't lose their color or flavor.
Date published: 2014-08-22
Rated

5

out of

5
by
Fleas
from
Try steaming fresh corn on the cob
Much better than grilling or boiling. Kernels have a wonderful firm texture, retaining all the moisture and flavor. Steamer bowl is a perfect size for this.
Date published: 2014-07-30
Rated

3

out of

5
by
Michelle
from
Works great, but basket does not wear well
Works great mechanically...but...our basket started cracking after a year or two of use...it is now held together with duct tape. I'm not seeing any replacement part options for the basket. We use the steamer 4-5x/week. I had a Sunbeam steamer that held up for 15 years...disappointed. Can you please contact me with solution alternatives? It seems awful wasteful to have to replace the whole unit when only the basket is faulty (deep basket).
Date published: 2015-05-03
Rated

1

out of

5
by
Tangerine
from
Did not work long
I bought 2 manual steamers and one digital steamer about 9 weeks ago. One, I gave as a gift and the other 2 were for my own use. I started with the manual steamer and liked it very much. However about 6 weeks into use the manual control/timer would stick at the the 20 minute mark. I had to unplug it or force the timer to turn to off. More importantly, that means I have to be there to make sure the food is cooking. I have to watch my own clock. The timer is of no benefit. Very disappointed as it is really quite new. I liked the product while it worked correctly.
Date published: 2015-09-08
Rated

5

out of

5
by
mollyrushka
from
INDISPENSABLE
FANTASTIC PRODUCT. OWN 2 THIS AND THE DIGITAL. DIGITAL CAN BE SET FOR 95 MINS, THIS FOR A MAX OF 75. I use every week: steamed chicken, potatoes for mashing, had boiled eggs, asparagus etc. clean up is easy. when i dropped the lid and split it I contacted Oster intending to purchase a new one, They sent one to me for no charge i have given this product as a gift to each of my sisters
Date published: 2014-11-25