Oster® 1.7L Variable Temperature Kettle, Stainless Steel
Details
http://www.oster.ca/en_CA/beverages/kettles-and-hot-water-dispensers/oster-1.7l-variable-temperature-kettle-stainless-steel/BVSTKTVT01-33A.html
Images
Product Actions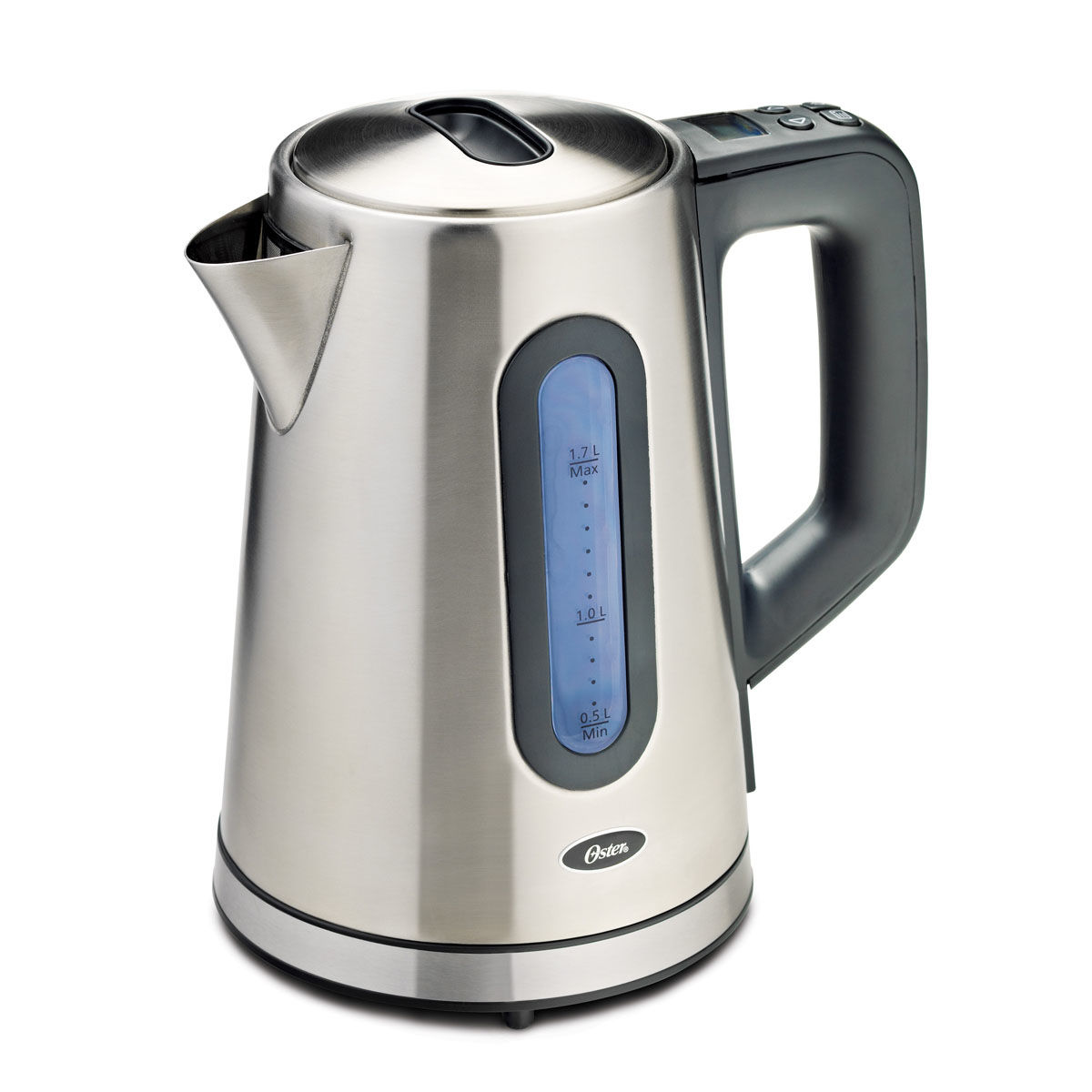 Oster® 1.7L Variable Temperature Kettle, Stainless Steel
- See final price in cart
Promotions
The Oster® Variable Temperature Stainless Steel Kettle puts the kettle to the metal for fast, convenient hot water. Customize water temperature with variable temperature control to set to your personal preference.
Overview
This electric stainless steel kettle provides convenience to boil water anywhere you need. Designed with variable temperature control to enjoy your hot beverage and instant foods to your desired temperature preference. Designed with rotating base to easily grasp handle and serve with style. With auto shut-off and dry boil protection.
1.7L Capacity
Auto shut-off and boil dry protection
•Variable temperatures – 70°C, 80°C, 90°C, 100°C
Convenient 360° rotational base
Questions & Answers
Service & Support
Oster® 1.7L Variable Temperature Kettle, Stainless Steel
is rated out of
5
by
10
.
Rated

1

out of

5
by
Gail
from
Poor value for money
I bought this Kettle about 6 months ago. Having a number of Oster products over the year I was very sure that the performance of this one would not be any difference. Was I wrong. It worked great for the first few months, my husband drinks only green tea and having the choice of temp was a big selling point. I only drink tea that requires a boiling temp so this kettle was perfect. Then I noticed some water on my counter first thought it was me spilling it then I noticed that the water was leaking from the water level window. As I had never had a problem with a Oster product before due to high quality of the product I no longer have the receipt I do live in an area of hard water and I followed the instructions on cleaning the kettle . So no I won't be getting another Oster kettle and will think twice about buying any other product due to the poor quality of this one and at 80 dollars it makes the kettle very expensive for the six months I owned it.
Date published: 2015-04-28
Rated

3

out of

5
by
SubtleCow
from
No Manual
I was gifted this as a pre-christmas gift, but the box didn't have a manual in it. After finally admitting I can't figure out the buttons on this kettle without a manual I come to your website only to find you don't have a manual available. I'm disappointed that I'm going to have to keep randomly clicking the buttons until I can figure out the pattern that lets me make tea.
Date published: 2016-12-17
Rated

2

out of

5
by
Sherry_Lynn
from
Why variable temperatures?????
My son purchased this kettle for me for Mother's Day. I drink a variety of tea's. He thought this kettle would be perfect for me. So did I until i went into the owners manual to find out what temperatures to use for different tea and to my surprise, there were no helpful tips in there to help me out. very disappointed.
Date published: 2015-05-11
Rated

1

out of

5
by
Tess
from
Rusts at bottom of kettle
I bought this kettle only six months ago. It is rusted inside, at the bottom of the kettle . My store does not carry this brand anymore. And cannot find this model anywhere to return it. Should not rust around the inside bottom ring. This was the most expensive kettle I have ever bought , and then this.
Date published: 2016-11-05
Rated

1

out of

5
by
Allison
from
No longer works after less than a year
I received this as a Christmas gift and it no longer works after less than a year. There seems to be something faulty with the digital screen. It does not connect properly and flickers in and out and half the time it won't turn on. Very disappointed with this product.
Date published: 2016-07-12
Rated

1

out of

5
by
Sarah
from
Great except for the smell and taste of the water
I bought this kettle because I am very particular about the temperatures I use to brew certain teas at so the temperature control was an important feature. It works great, boils quickly, and the temperature seems fairly accurate as well. It's a nice shape, holds a lot of water, and the fact that the cord is on a detachable base is very convenient. However, even though I followed the cleaning procedures in the manual, and even though I tried several additional cleanings and boiled/discarded/rinsed the unit over a dozen times, the water still smells and tastes of plastic. The water absolutely reeks and the smell hits you if you open the lid after finishing a boil. I didn't inspect the water before using it the first time and had a very bad pot of tea as a result. I think it's unfortunate that so much thought was put into the overall design of the unit but that no thought was put into the effect it would have on the quality of the water. I am returning this unit and will not purchase a kettle with plastic parts touching the water ever again.
Date published: 2016-11-29
Rated

2

out of

5
by
sm75
from
lights don't work
I had bought one awhile back and it worked fine. Ended up giving that one away to son (university). I purchased the same one and the lights do not work at all. I have read that others have had this issue.
Date published: 2015-09-29
Rated

1

out of

5
by
sdaly445
from
Leaks
I was shocked when I realized this was leaking. It seems as though others have had this same problem. Not what I was expecting from a name such as Oster and an expensive kettle.
Date published: 2017-02-07